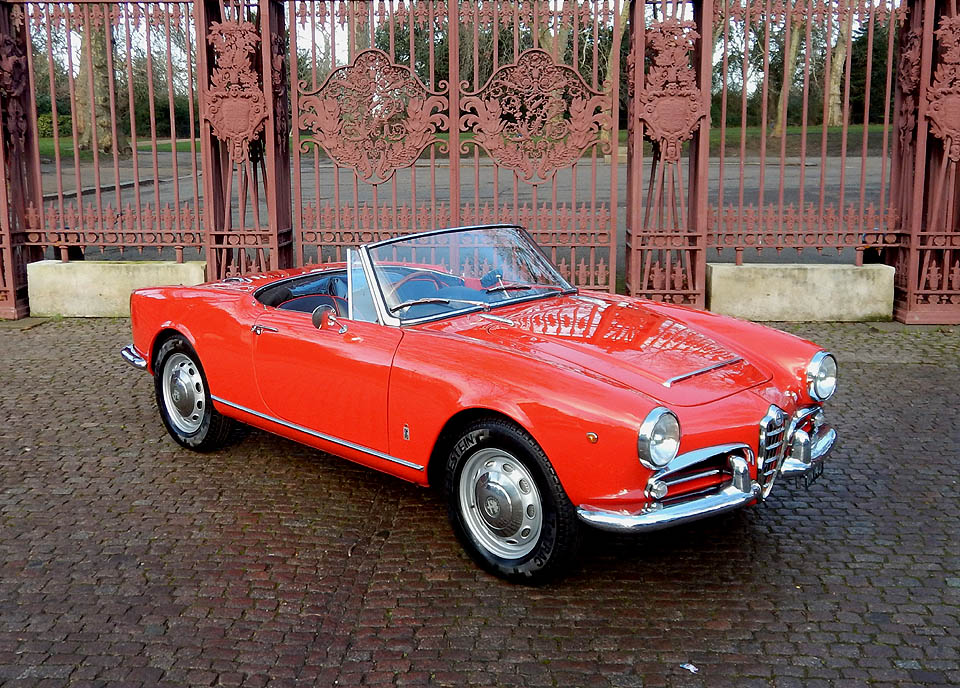 The Alfa Romeo Giulia Spider was a larger engined development of the much acclaimed Giulietta. The stylish little convertible had been designed by Pininfarina and launched in 1955. Beneath the Spider's stylish exterior was a cleverly engineered sports car. Accordingly, orders for the Giulietta Spider poured in from both sides of the Atlantic and it quickly became a firm favourite.
The more powerful 1600cc Giulia Spider was launched in 1962 when it had become clear that a larger capacity model was needed to successfully compete in the market. The main improvement was the increased engine size and this was mated to a satisfying new 5-speed gearbox. Small styling details changed such as the raised bonnet. Still very lightweight at 885 kg with power at nearly 100 bhp (112 bhp for the twin weber carburettor Veloce version), the Spider was nimbler and faster than ever.
"WON 140" is the 15th of the 397 RHD Giulia's built and its extraordinary story begins on a cruise ship! In 1963 Mr Harry Cressman, who was the founder and chairman of Bristol Street Motors, was enjoying a holiday on the SS France with his wife. He couldn't resist taking up an offer to drive a new Giulia Spider around the deck of the ship. Successfully avoiding the other passengers and crew gained you a 'High Seas Driving Licence' a document which is still in the weighty history file. On the last night of the voyage, a charity raffle for a new Spider was held. 1000 tickets were on offer at $100 each. Cressman was so enthused by the car that he bought 10 tickets which by auspiciously included the winning ticket, number 140. At the end of the voyage, Alfa Romeo took the Cressmans off to Paris for a celebration party and then flew them 1st Class back to London. Here he was presented with his brand new Giulia Spider, registered "WON 140" after his winning ticket.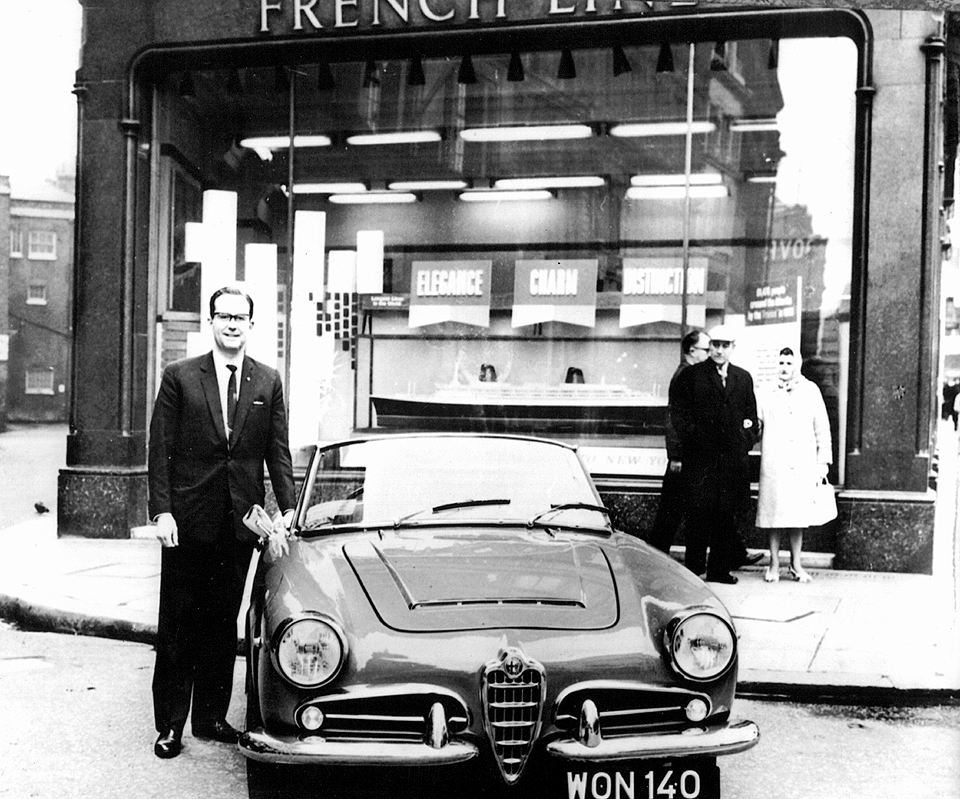 Harry loved the Spider and owned it for over 30 years keeping it garaged and only using it on dry days. In 1999 he presented "WON 140" in near perfect condition to his son Tom. Having grown up with the Spider, Tom was naturally delighted. Sadly he was only to have the Alfa in his possession for a short time. In September 2000 he was tragically murdered in a crime of passion by his girlfriend, Jane Andrews. After Tom's death, the car was entered into the Coys Auction of 11th December 2000 where it was purchased by the well-known collector Mr Peter Fowler. At the time of sale, the mileage was 25,631 miles and the Spider was completely original.
In 2001 Fowler commissioned marque expert Chris Robinson of RMR Restorations to mechanically restore and upgrade "WON 140" including rebuilding the engine to Veloce specification (twin Webers and appropriate cams). In total, Fowler spent £18,000 during his ownership and after ten years sold "WON 140" to Mr Terry Richards on 30th August 2010 with a mileage of only 30,500 miles. Richards continued Fowlers work by restoring various mechanical and cosmetic parts of the Spider and there are invoices on file for £14,600.
In December 2012, with less than 35,000 miles on the clock, the car passed to Mr. Andrew Dixey who continued to lavish money on it, fitting a Veloce manifold, electronic ignition and new headlights and chrome-work. Probably more significantly the car was re-'Waxoiled' to maintain its extraordinary condition.
Dixey sold the car in 2014 to its current owner and during these nine years the car has been used sparingly bringing the total recorded mileage up to 36,011. The car has been regularly serviced and in October 2022 a major brake overhaul was commissioned including new wheel cylinders front and rear, re-lined shoes and the drums re-machined.
The Alfa Romeo Giulia Spider is one of the most delightful cars ever made and "WON 140" is a special example. It is offered in superb condition both mechanically and cosmetically. Back in the day the maxim in the trade was "You can't beat low miles" and this car is a testament to that. It has also only had a handful of caring owners and has a unique history making this is a very rare opportunity indeed.