Chassis No: CSX 2016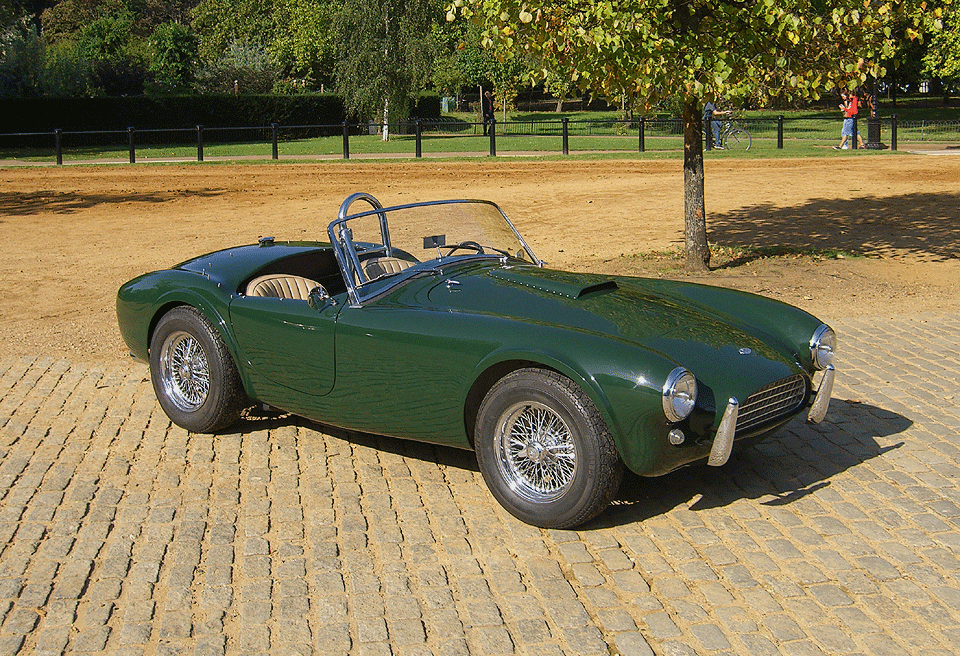 AC Cars Limited was a small family owned business based on the High Street at Thames Ditton, Surrey. They had been manufacturing cars since the twenties but by the sixties the factory output was principally invalid carriages, wheel chairs, golf trolleys and the like. During the three year period when the 2.6 litre Ruddspeed Ace was being built the total production was less than fifty cars. The first order for the immediate delivery of two hundred Cobra rolling chassis would have been quite extraordinary. The cars were built in the factory and shipped in bare metal without engines and gearboxes to Shelby American Inc in Los Angeles where they would be completed and road tested. AC Cars invoiced Ford Motor Credit for these Cobras.
Ford had realised the significance of success in competition and became interested in developing a sports car with a view to entering the racing arena. At this time Carroll Shelby, through personal contacts in Ford, made the proposal to the company of fitting their new V8 engine into the AC Ace, an aging product from AC Cars Ltd. What emerged from this highly improbable union was initially marketed as the "Shelby AC/Cobra powered by Ford" soon to be known as simply the Cobra
Production started in February 1962 and continued until November 1964 when the Mk III, with coil sprung suspension, was introduced. Production of the so-called Mk I and Mk II Leafspring Cobras was 602 units starting with chassis number CSX 2000
This car was built as part of the first contract, has chassis number CSX 2016 and was the 16th production car built. It was completed on 26th September 1962 and was invoiced on 2nd November 1962 to Ed Hamill, an employee of Shelby American who left the company to start his own dealership. Upon his departure he purchased 2016 and 2017: "1 Shelby AC Cobra, red, CSX 2016, $4,995.00, plus radiator rust inhibitor and delivery charges to Las Vegas of $125.00." Hamill kept 2016 as a demonstrator for several months before selling it in September 1965 to Jeff Anderson (Arlington Heights, Illinois). The car was acquired by David Dowrie (Illinois) in December 1966. An invoice to Jack Loftus Ford (Hinsdale, Illinois) on 27th April 1966 documented two "Powered by Ford" emblems being shipped for 2016.
In 1974 the car was acquired by Robert Ames (Tigard, Oregon) who by 1978 had it restored. It was given a repaint in Vineyard Green and reupholstered in tan leather. It is thought the car's odometer was re-set to zero at this time. It's original 5.5" painted wires were replaced with 6" chrome ones and the original oblong "Shelby-AC-Cobra" badges were retained. Ames sold 2016 in the early 1980's to a new owner who allegedly had a problem with the tax authorities, resulting in the seizure of his Cobra by the I.R.S. It was placed in McCloud auction, but bidding on the car was insufficient to offset the government's claim. A deal was struck in April 1985 that resulted in the sale to Len Gratteri, Jr. (Hillsboro, Oregon) at a cost of $33,500. One year later, a new wood steering wheel, a riveted hood scoop, and a fresh Webber-carburetted 289 Hi-Po were added. (The car's original 260 engine was preserved and crated.) At SAAC-17 Portland Oregon in July 1992, 2016 took 3rd place in the popular vote 260/289 Cobra class. At that time, the car used the Oregon registration "SNAKE". It was pictured in The Shelby American, #61, p.33. In 1996 the car's 289 engine was rebuilt and a new exhaust system was installed. The car's odometer at this time read 2,105.
Gratteri died in the spring of 2003 and 2016 was consigned to a Los Angeles dealership, "Heritage Classics" in February 2004. They offered the car for sale at a price of $218,500. It was sold to Terry Gruggen (Bloomington, Minnesota), with the car's original 260 engine, on 16th March 2004. Gruggen traded in a 1950 Jaguar XK120 OTS on the Cobra, the odometer of which by now read 2,590. The "Powered by Ford" badges installed in 1966 were removed and 2016 was repainted Vineyard Green in June 2004. It was given Minnesota collector plate reading "CSX 2016".
Today this Cobra is offered with a highly tuned 289 engine fitted with Weber carbs but in all honesty not much in the way of silencing. This car comes with its original (yet to be verified) 260 unit crated but in need of a reconditioning. With this engine re-fitted it is a potential front-runner in the Pre '63 GT Series as proven at the 2011 Spa 6 Hour meeting where a similar car finished second behind a Ferrari 330 GTO. 2016 is beautifully presented and represents a rare opportunity to own an early production Cobra.