Chassis No: 850634
Engine No: R 8866-9
Registration: 860 RAU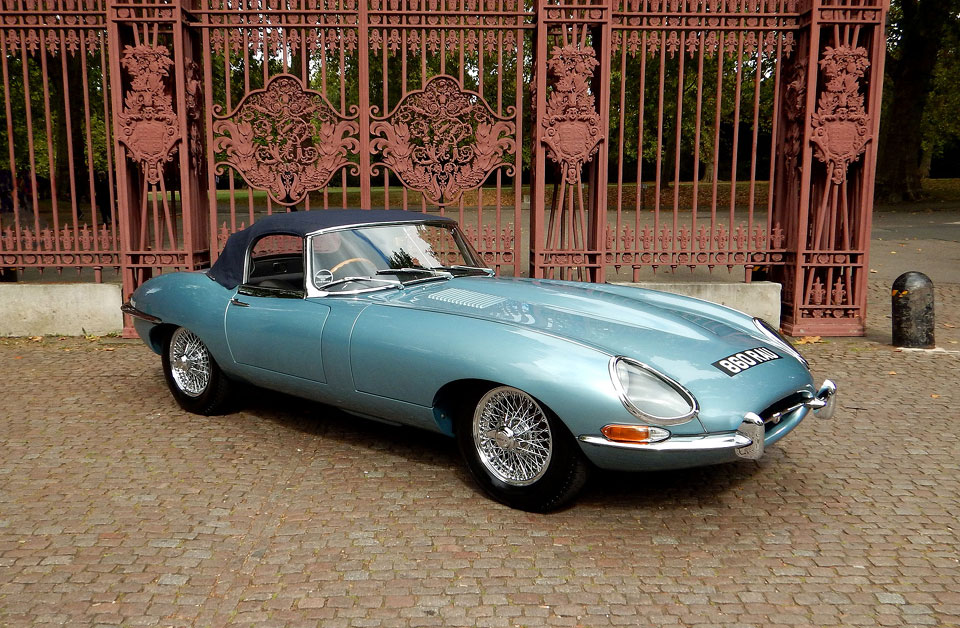 Introduced in 3.8-litre form in 1961, the Jaguar E-Type caused a sensation when it appeared, with instantly classic lines and 150mph top speed.
John Bolster, writing in Autosport, later said of the car: "If Les Vingt Quatre Heures du Mans has been responsible for the new E-Type Jaguar, then that Homeric contest on the Sartre circuits will have been abundantly justified. Here we have one of the quietest and most flexible cars on the market, capable of whispering along in top gear at 10mph or leaping into its 150mph stride on the brief depression of a pedal. A practical touring car this, with its wide doors and capacious luggage space, yet it has a sheer beauty of line which easily beats the Italians at their own particular game."
The E Type's design did indeed owe much to that of the Le Mans-winning D-Type sports racer: a monocoque tub forming the main structure, while a tubular space frame extended forwards to support the engine. The latter was the same 3.8-litre, triple carburettor 'S' unit first offered as an option on the preceding XK150. With a claimed 265bhp available, the E-Type's performance did not disappoint; firstly, because it weighed around 500lbs less than the XK150 and secondly because aerodynamicist Malcolm Sayer used experience gained with the D-Type to create one of the most elegant and efficient shapes ever to grace a motor car.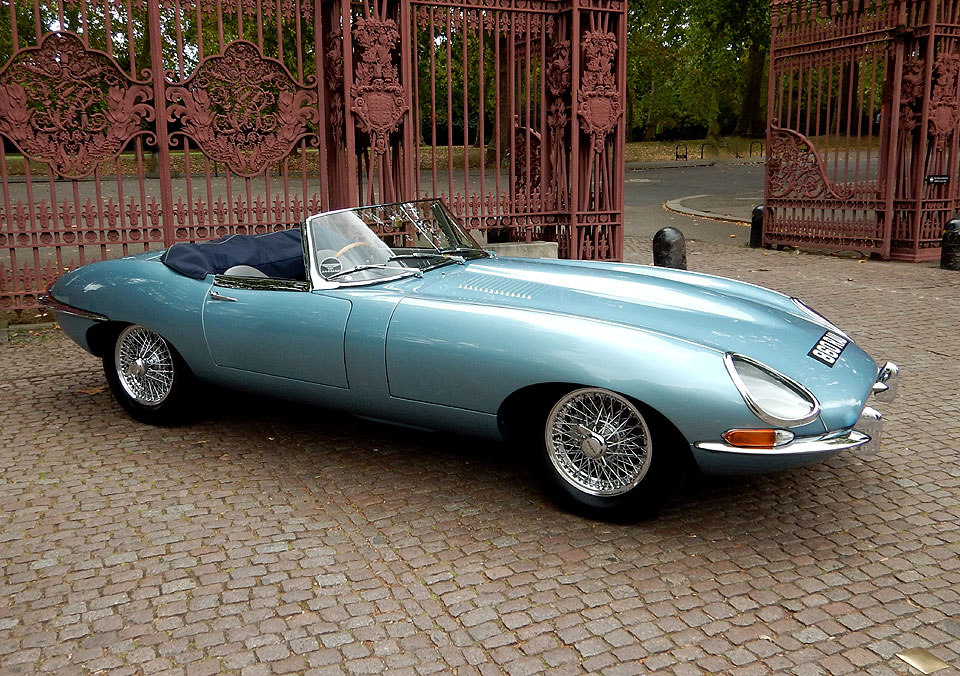 The Jaguar Daimler Heritage Certificate confirms that Chassis 850585 was manufactured on 16th November 1962 and then dispatched to their distributor, 'Truemans' of Derby. It was registered '860 RAU' on 30th November the same year resplendent in its "Opalescent Silver Blue" paint with blue grey leather and blue soft top.
It is noteworthy that Jaguar only produced 936 'Series 1' 3.8 litre, right-hand drive variants, compared with 6,886 left-hand drive cars.
As an early example of the E-Type, this particular car has some features not found on later examples. These include: larger rear drive shafts and wishbones, aluminium centre console section and air-intake assembly box without grooves.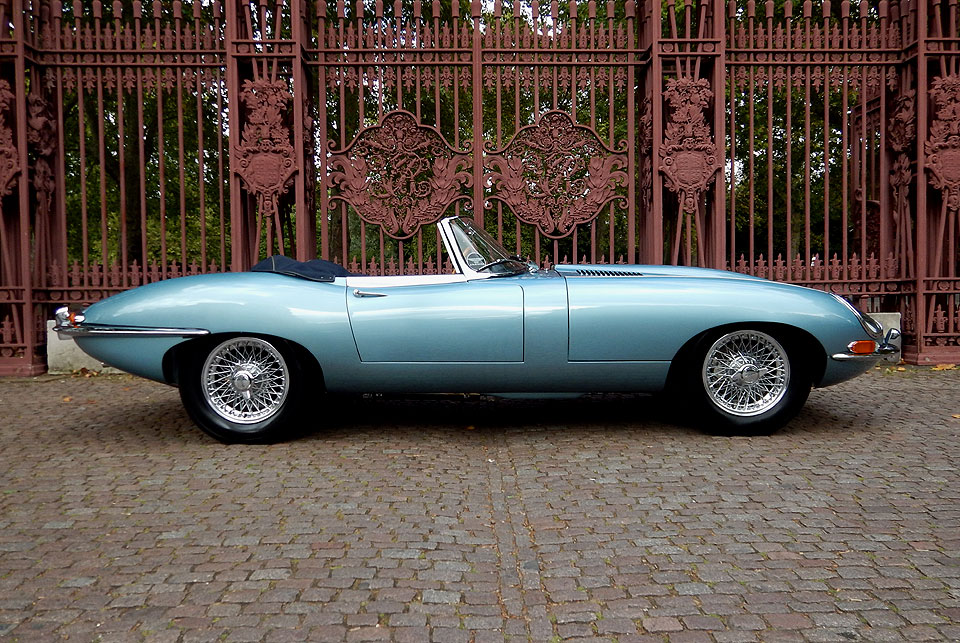 A weighty history file accompanies the car that includes the original 'buff' logbook, copies of later V5's, hand book, numerous concours winners certificates, invoices and photographs.
All of the owners are documented:
1st owner: 30-11-1962 Patrick Bird of Derby
2nd owner: 02-05-1966 David Haycock of Derby
3rd owner: 00-00-1987 David Corrigan Stourport on Severn
4th owner: 09-03-1993 Vic Telfer of Chepstow
5th owner: 21-09-1997 Peter Lawson of Leek
6th owner: 14-01-2010 current
860 RAU was restored between 1989 and 1990 and had the bulk of the work carried out by R.S. Panels. At the same time it was fitted with a four speed synchromesh gearbox from a Series 2 car that makes for nicer driving. Importantly the original Moss box was retained. This is a numbered unit and mentioned in the build sheets and heritage certificate and should be kept with the car verifying it legitimacy. The car was also fitted with a stainless exhaust system.
The restoration was carried out to such a high standard not only in terms of workmanship but also accuracy that it has won numerous concours awards:
1995 Jaguar Drivers Club Concours "Highly Commended"
1996 Jaguar Drivers Club Concours 1st
2000 Jaguar Drivers Club Concours 1st
2006 Jaguar Drivers Club Concours 1st Champion of Champions
2008 Autoglym Concours D'Elegance 1st
In March 2000 860 RAU appeared on the 'Blue Peter' childrens television show to linked with the launch of the F Type
In 2004 860 RAU was loaned to the Design Museum in London and put on display for four months.
In 2009 860 RAU was loaned to Jaguar as a part of their stand at the Goodwood Festival of Speed.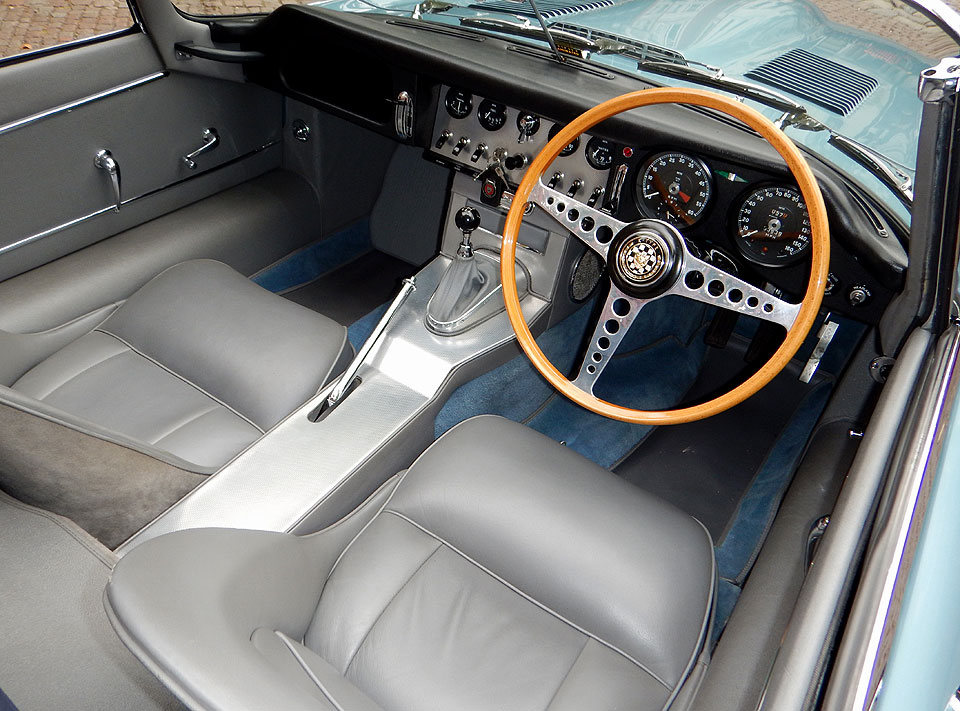 The current owner has a number of Jaguar sports and racing cars and these are all cared for by the highly regarded engineer, David Brazell. The car was last inspected by him in November 2017 at which point it had five new Pirelli Cinturato tyres fitted along with four new Koni adjustable dampers.
This is a remarkable early E Type with the integrity of a settled restoration that looks fresh and bright. It has retained its original numbered engine and gearbox as well as being updated with a Series II Synchro unit. It is offered for sale in its original colour scheme and with its original restoration number, as if it had just left the factory. The recent works by Brazell Engineering will ensure it handles as it should and the stainless exhaust system is a sensible upgrade. In addition it has a most impressive record of appearances in shows, museums and concours events. As befits a car of this caliber a complete factory tool roll is to be found in the boot along with the hand book and other period paperwork and pamphlets. It comes from the private collection of the UK's foremost enthusiast and an inspection and test drive will not disappoint.