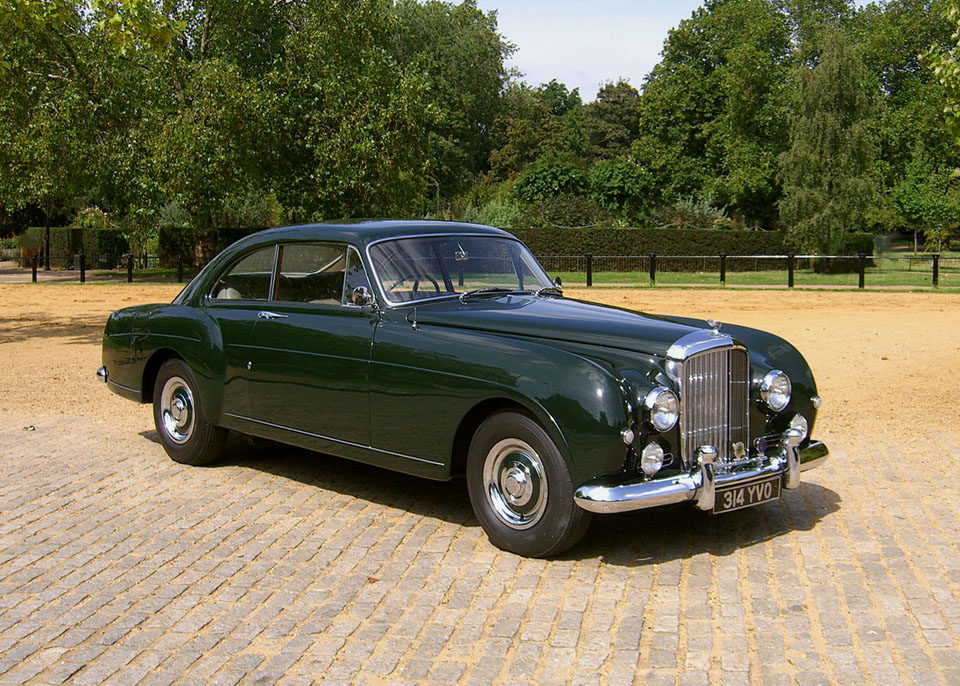 The success of the R-Type Continental ensured that a sporting version the new S-Type would be offered as part of the Bentley range and accordingly the "S1 Continental" was produced between 1955 and 1959. The robust 4.9 litre, six cylinder engine was retained and improved with a higher compression ratio, more efficient cylinder head porting and redesigned cam-shaft profiles. The chassis was also up-rated and benefited from servo assisted hydraulic brakes and ride control. The result was 120 m.p.h. performance in great comfort and some style. The production run of the S1 Continental was 431, but only 123 right hand drive chassis were fitted with Mulliner's Continental Fastback body actually making it a much rarer car than it forebear, the iconic R Type.
Chassis Number: BC 77 AF
Engine number: BC 76 A
U.K. Registered 314 YVO
H.J. Mulliner Body No: 5879
Original colour: Cadillac Green (Now Brewster Green, a RR Colour)
Original Leather: Grey (Now grey/green, re-trimmed 1990)
Chassis Record and Body Build sheet in history file. Car is as per original delivery specification. This car is not fitted with power steering and has an automatic gearbox.
Note on engine numbers: engine numbers for all cars post chassis 12 are one digit apart as they did not build a chassis with the number 13.
First Registered 16th April 1956.
List of Known Owners
1956 Mr. J.G. Walton, Sutton in Ashfield, Nottinghamshire
1979 Mr. J.N.W. Dalton of Bury St. Edmunds, bought from "Barkers" of Windsor
1984 Mr. Victor Ashwell of Watford, Hertfordshire
2004 William Medcalf of Enfield, London. Motor Engineer and friend of Vic Ashwell
2008 Mr. George Lemberg.
2008 Mr. V.K. Krikorian of London SE19
Owned by Victor Ashwell, well known and popular BDC Member for 20 years from 1984 to 2004 during which time he kept a meticulous hand written log of maintenance and general works. Ignoring lots of services and minor works here are some details:
1984 Ashwell buys car with Odometer Mileage 99,200
1986 Gear box and rear axle overhauled/adjusted. New rear axle pinion bearing (odometer 107.108)
1990 Underside steam cleaned and Waxoiled (odometer 117,419)
1990 Re-trimmed
1991 Under side Waxoiled (odometer 118,310)
1992 O/S New King Pin set, gearbox & servo rebuild (odometer 120,512)
1992 Underside Waxoiled (odometer 121,123)
1993 Engine Rebuild (odometer reading 121,714)
New pistons, con rods polished, exhaust vales and guides, cam followers, small ends, big ends, oil pump gears, dynamo bearings, etc. etc. All at Overton's of Leigh on Sea. Circa £ 8,000. Invoices in file
1993 Chassis Waxoiled internally (odometer 122593)
1995 Chassis Waxoiled (odometer 125,524) Note in log that Waxoiling was also carried out in 1994, naturally
1996 Chassis Waxoiled (odometer 127,049)
1997 Chassis Waxoiled (odometer 128,503)
1999 Chassis Waxoiled (odometer 130,745)
1999 Big service. Rear axle rebuilt with standard ratio cwp set.
2001 New Continental cwp set fitted (odometer 132,545)
2001 New u/j joints to prop shaft (odometer 132,700)
2004 Sells to William Medcalf (odometer 134,030) Vic Ashwell has done 34,800 miles in twenty years, 1741 per year
2004 Medcalf continues the log. Resets rear springs, news bushes, new gaiters, prop shaft stripped and reset, brakes serviced
2004 Chassis Waxoiled (odometer 134,350)
2005 Log ends with an oil change (odometer 134,771)
(From history file)
2006 MOT shows mileage 134,958
2007 MOT shows mileage 134,977
2008 MOT shows mileage 135,264
2009 MOT shows mileage 136,083
2010 odometer 136,269 (less than 15,000 mile since engine rebuild)
Bare metal re-paint, re-chrome bumpers, wheel trims, handles, etc.2010
5000 mile service carried out in October 2010 by Frank Dale & Stepsons.
This car is in fine condition and drives as one would expect. The automatic gearbox in particular is noteworthy for its smooth and quiet action. The coachwork is finished in Brewster Green with pale green leather to the interior, matching carpets and magnificent dark polished woodwork.
The car is complete with its handbook, tools and substantial history file.