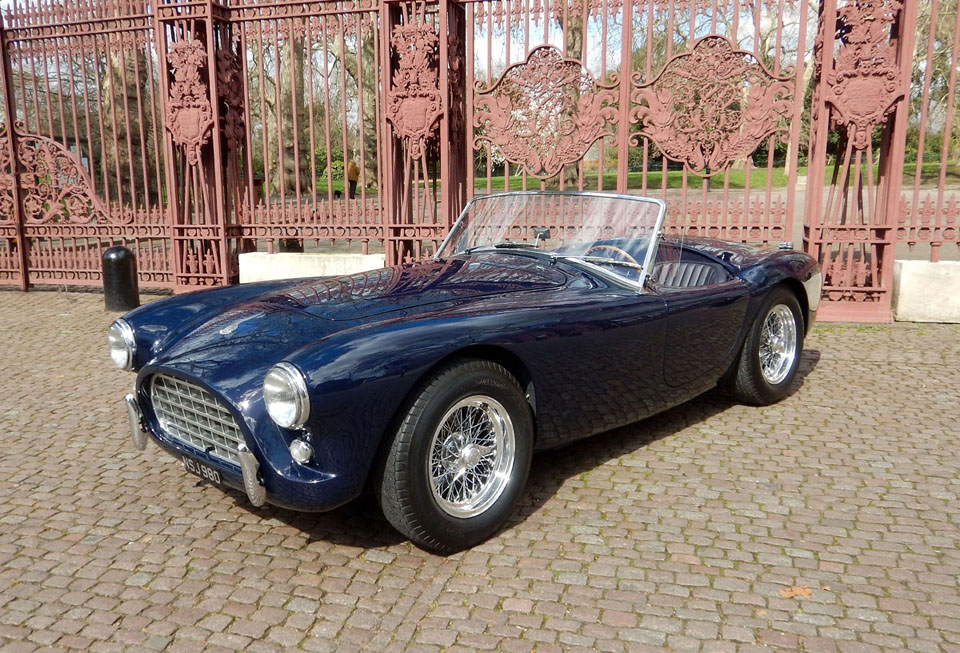 "Of them all, the Ace was the truest sports car: it could be used for daily commuting or for high-speed long-distance touring, but it could also be driven to a race meeting, campaigned with distinction, and driven home again – even if that race was the Le Mans 24 Hours". – AC Heritage, Simon Taylor & Peter Burn.
The success of Cliff Davis's Tojeiro sports racer prompted AC Cars to put the design into production in 1954 as the 'Ace'. The Davis car's pretty Ferrari 166-inspired barchetta bodywork was retained, as was John Tojeiro's twin-tube ladder frame chassis and Cooper-influenced all-independent suspension, but the power unit was AC's own venerable, 2-litre, long-stroke six. This single-overhead-camshaft engine originated in 1919 and with a modest 80bhp (later 100bhp) on tap, endowed the Ace with respectable, if not outstanding, performance.
In 1955 AC added a hardtop version – the fastback-styled Aceca – and from 1956 onwards both models became available with the more powerful Bristol 2-litre, six-cylinder engine with its ingeniously arranged, pushrod-operated inclined valves. Although taller and heavier than AC's own engine, the BMW-based Bristol was considerably more powerful thanks to its superior cylinder head design and downdraft carburettors. Up to 130bhp was available from the Bristol unit in road trim, in which form the Ace could touch 120mph (195km/h), while around 150bhp could be wrung from it for racing. The combination of a fine-handling chassis and a decent power-to-weight ratio helped the Ace to numerous successes in production sportscar racing; arguably its finest achievement being a first-in-class and seventh overall finish at Le Mans in 1959.
The Bristol-engined Ace was not only more powerful, it was also considerably more expensive, costing £2,011 in 1957, an increase of 22% over the price of the AC-engined version. For that you could buy two MGAs, and even Jaguar's XK140 was cheaper than the Ace Bristol. Nevertheless, by the time Ace production ceased in 1963, more than half the 723 cars built had Bristol engines.
Chassis BEX 155 is an original left hand drive Ace Bristol. The factory records show it left the Works on 8th June 1956 and was delivered new to keen racer, Juan (Jack) Fernandez in Venezuela. The car was used in competition and notably was entered into the 1957 Sebring 12 Hour race, which was Round 2 of the 'World Sports Car Championship'. The car ran well, completed 161 laps and finished 17th Overall. More significantly this was 'First in Class' beating a Triumph TR3 by one lap. The car was also entered into Round 7 of the W.S.C.C. which was a 1,000 kilometre race at 1957 Venezuela Grand Prix meeting but was retired after 18 Laps. Fernandez continued to campaign the car and enjoyed further successes including a second overall at the Shell Trophy race in Trinidad in 1958.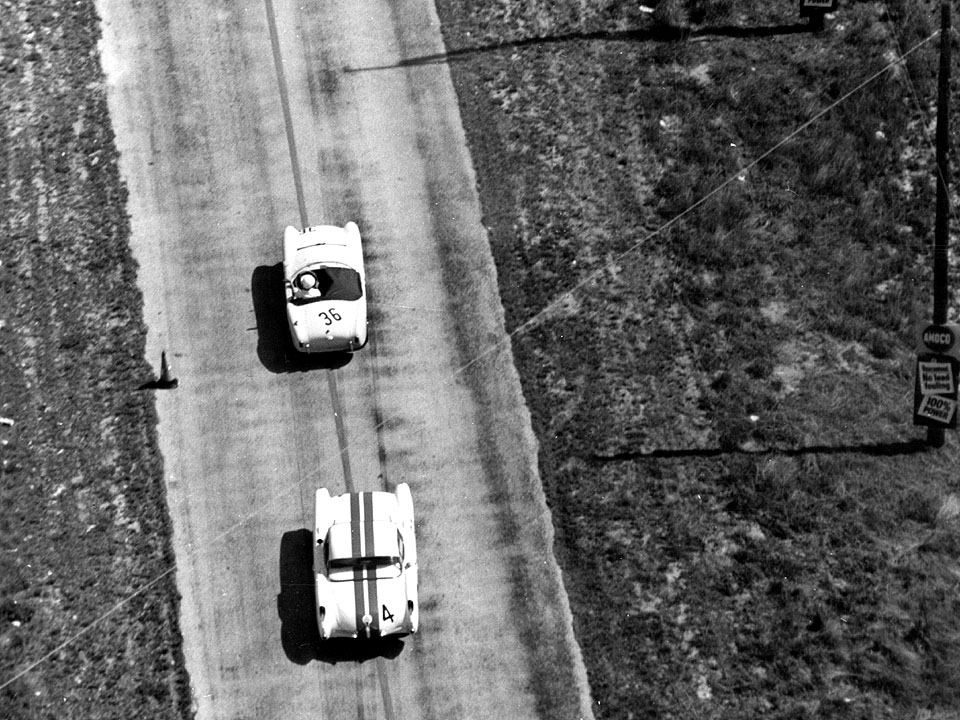 First in Class at Sebring 12 Hour Race in 1957
Many years later in 1988 the car was discovered in Texas by classic car dealer, Mike Lavers. He recounts in a letter that the car was "in a rough state and clearly had been sitting outside in a hot climate" but that "it was immediately apparent that the car had been used in competition as it was fitted with a roll-over bar, huge fuel tank and wide wheels". Unaware of its history he bought the car and brought it back to the UK.
Lavers sold the car to the well-known exponent of AC Aces, Adrian Hall. He chose to fit a 2.6 Ford engine and race the car in 'Ruddspeed' specification.
He kept the car until 1998 when he sold it to John Clark of Aberdeen who won the Scottish Historic Championship with it in 2000.
In late 2001 Clark sold it to Jonathan Bradburn, a well-known Ace enthusiast for competition and hill climbing. The car was campaigned for Bradburn by Tony Hill throughout 2002 and 2003 and he raced and hill-climbed with it with great success. At the end of the 2003 Bradburn took the decision to restore the car to its original specification with a Bristol engine and gearbox, get FIA HTP papers and be eligible for the 50's Sportscar Series. He kept the car until 2016 when it was acquired by the current owner. In his ownership the car has been looked after by Stanton Motorsports and works included an engine rebuild and complete re-wire by Winston Teague.
The car is offered in good restored condition with unmarked blue paintwork and matching leather, carpets and tonneau cover. It is also fitted with Borrani alloy wheels. As a 1956 car it is highly eligible for the Mille Miglia.