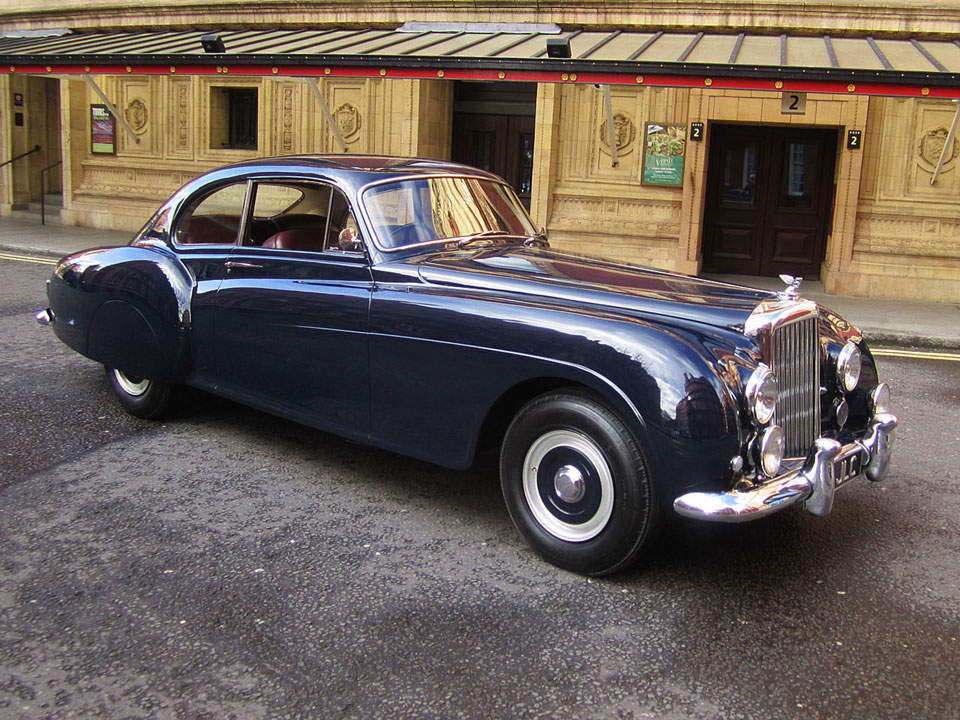 Rolls-Royce bought Bentley Motors in 1931. Before the War they built over 2,000 owner-driver Bentley chassis to fit in with their existing range of more formal cars. In the austere post war world Rolls-Royce were unsure how the market would receive their first new model with integrated coachwork and rather than risk a failure with the Rolls-Royce name on it, they launched the Bentley Mk. VI in 1946. They changed the name to the Bentley R Type in 1952 when they made some improvements to the design.
The car proved to be a great success and the company built 7,500 of the "Standard Steel Saloon" which as name implies was coach-built to a standard design which was a robust upright steel saloon with four doors. A really decent car but it was evident that there was also a demand for something more special, individual, and sporting. So it was that between 1952 and 1955 Rolls-Royce came to build to specific customer requirements the Bentley R Type Continental chassis which was to be fitted with lightweight coach built bodies.
Almost all the bodies were produced by H.J. Mulliner in lightweight aluminium. They were only available in a two door design and were aerodynamically styled and featured a curved windscreen, stiffened chassis and tuned engine. They were built to order and no two cars are exactly alike as owners could choose from a variety of options including colours, manual or automatic gearbox, instrumentation and cockpit layout, spats on the rear wheels, types of seats etc.
The Bentley R Type Continental is arguably the most significant post-war car produced by Rolls-Royce. It was the fastest production four seater in the World, carried stunning light alloy coachwork and was highly exclusive with only 208 examples being built. The designers and engineers at RR proved that they could combine performance and innovation with their internationally acknowledged reliability. The R Type Continental was produced from 1952-1955 in A, B, C, D and E Series.
Chassis BC 75 C was delivered to its first owner in June 1954. Its build sheet confirms it to be a right hand drive car with manual gearbox, standard seats rear wheel spats. The car's is history is fully documented and every owner is known. Most recently it was in the care of well-known enthusiast Hugh Taylor. He commissioned a complete restoration with the work being undertaken by the highly regarded specialists, Padgett Engineering.
The car has benefitted from a meticulous body off restoration and this apparent in the high level of finish that is really only achievable when this level of work is done. The car also has numerous upgrades and these include alloy wheels and alloy brakes for lower un-sprung weight. An alloy radiator for more efficient engine cooling. A higher engine specification with Carillo con rods, forged pistons, and a sports cam and valves. The flywheel was lightened and balanced and a fluid damper fitted. A free flowing exhaust system was also fitted. Throughout the car, parts were either replaced or over-hauled. Inside the cabin the leather, carpets and headlining have been re-newed. The results speak for themselves and the attention to detail is worthy of close inspection.
The car is presented in Royal Blue with Burgundy leather, matching bound carpets and a fawn wool-cloth headlining. The veneer to the dashboard and door cappings is dark walnut, with an attractive grain and deep lacquered. The high quality of the materials is matched by the craftsmanship of the work carried out. The driving experience is further enhanced by a sympathetically installed air-conditioning system and an up to date radio.
This is an outstanding example of the marque and it is very rare to find one that has been really properly restored.