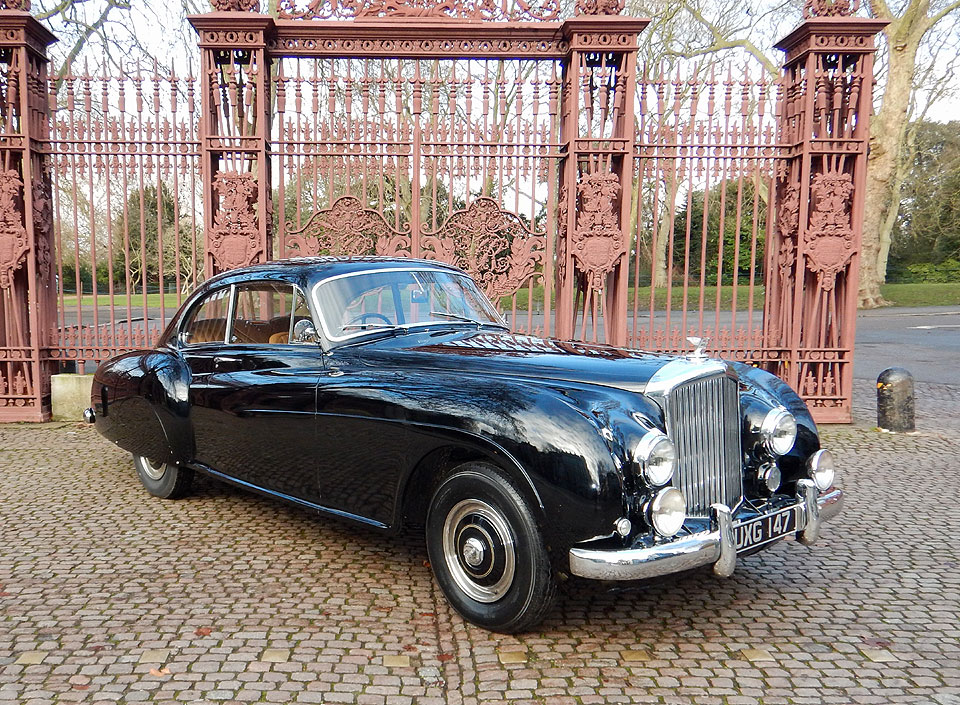 Rolls-Royce bought Bentley Motors in 1931 and before the War they built over 2,000 sporting Bentley cars to fit in with their existing more formal range. In the austere post war world Rolls-Royce were unsure how the market would receive their first new model with 'in house' coachwork. In 1946, rather than risk a failure with the Rolls-Royce name on it, they launched the "Bentley Mk. VI" and in 1952 changed the name to the "Bentley R Type" as they upgraded the design.
The car proved to be a great success and the company built 7,500 of the "Standard Steel Saloon" which as the name implies was built to a standard design which was a robust upright four door saloon. It was an exceptional car but it was evident that there was also a demand for something even more special, individual, and sporting. So it was that between 1952 and 1955 Rolls-Royce came to build to specific customer requirements the "Bentley R Type Continental" a chassis which was to be fitted with special aluminium coach-built bodies.
Almost all the bodies were produced by H.J. Mulliner in lightweight aluminium. They were only available in a two door design, were aerodynamically styled and featured a curved windscreen, stiffened chassis and tuned engine. They were built to order and no two cars are exactly alike as owners could choose from a variety of options including colours, manual or automatic gearbox, instrumentation and cockpit layout, spats on the rear wheels, types of seats etc.
The first 25 chassis were designated as 'A Series' and included 'Olga' the famous prototype with chassis number BC 26 A. The number 13 with its unlucky association was never allocated, accordingly chassis BC 14 A had engine BCA 13. All of this first series were built for Export Only although curiously only 4 were left hand drive.
The Bentley R Type Continental is arguably the most significant post-war car produced by Rolls-Royce. It was the fastest production four seater in the World and would cruise at 100 mph. It carried stunning light alloy coachwork and was highly exclusive with only 208 examples being built. It combined style, performance and innovation with the company's universally acknowledged reputation for reliability.
The complete history of BC 22 A is known and documented. It was ordered new via Garage de L'Athenée in Geneva and delivered in Switzerland to its first owner, Charles Gillet on 21st July 1953. It was supplied with black paintwork and off white leather and was fitted with the desirable manual gearbox and lightweight seats.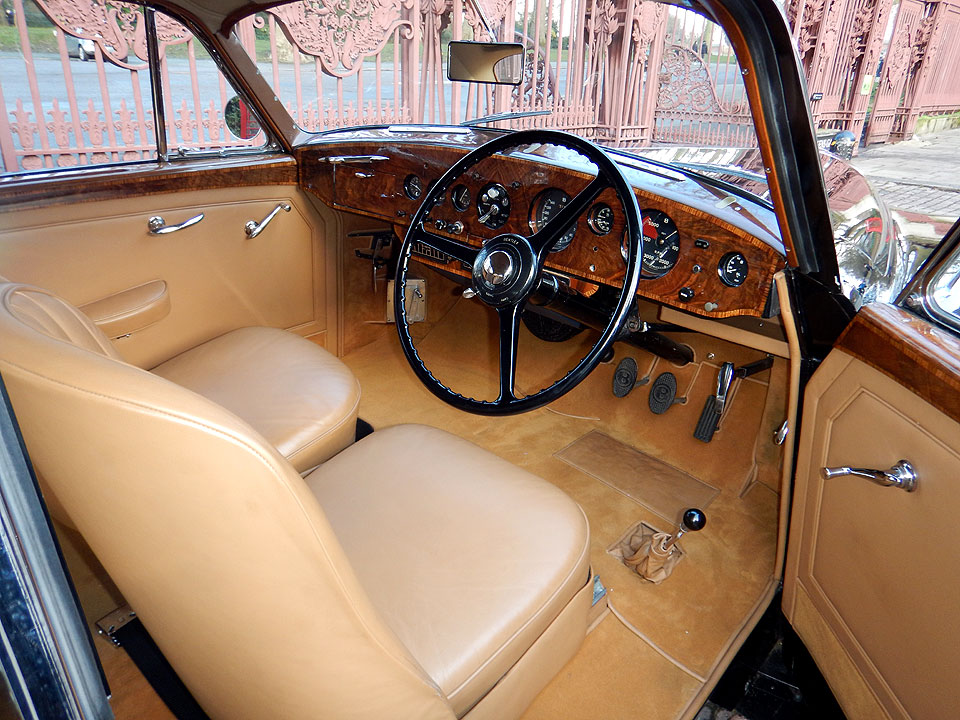 By 1955 it had travelled to the USA and was enjoyed by four owners before being purchased by a Canadian, Mr. William Nicholson in 1972. Many of the owners of the early cars with the 4.5 litre engines wanted the increased power that was available from the 4.9 litre unit that was introduced in 1954. The factory obliged with an engine exchange programme and a total of 37 of the bigger engines were supplied. A further development was a high compression engine with a factory modified cylinder head with big valves, and improved porting, (designated 'OPWAS') coupled with lightweight pistons, stronger con rods, full length liners and hardened exhaust valves. This was the option that Nicholson chose. The Continental Register states that he was inspired by Ian Flemming's description of James Bond's mythical uprated R Type. It is well known that in 1953 Flemming had the use of BC 10 LB for 6 months before its American owner took delivery.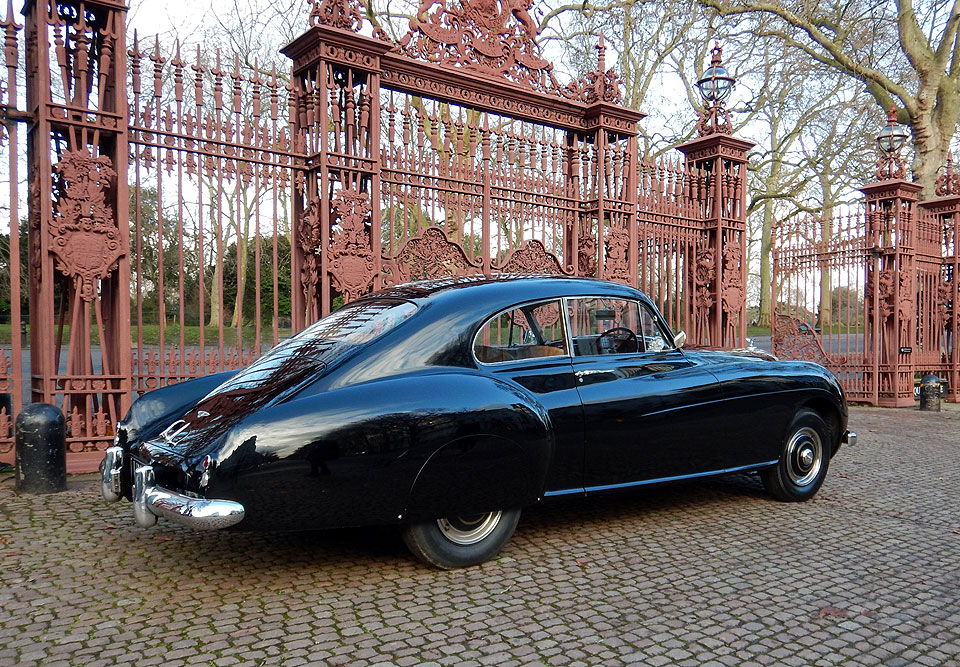 BC 22 A had four further owners before returning to the UK in 2003 and into the care of its current owner. Prior to taking delivery the engine was rebuilt by J & M Bentley and Partners and has covered around 16,500 miles since.
In summary this is an original 1953 Bentley R Type Continental with lightweight aluminium coachwork by H J Mulliner. The svelte A Series body (later cars were two inches wider) is complimented by the desirable manual gearbox, lightweight seats and rear wheel spats.
It is still in its original black livery while the interior has been re-trimmed in tan leather. The engine was replaced in 1972 which will deter matching number pedants but that's their loss. The high compression 4.9 litre replacement is rebuilt and features the OPWAS upgrades and tuned exhaust. A Harvey-Bailey handling kit was added in 2007 and the car runs on radial tyres. Air conditioning makes for comfortable cruising and an auxiliary Kenlow fan keeps the car cool as the occupants. An alternator was fitted to ensure the electrics could keep up.
This impressive specification is completed by a substantial history file, tools, running spares, additional 'town cap' for the radiator and a car cover.
At the height of the market these cars could command a price of £ 1,200,000 but today I can offer this example for a figure that is less than half of that. Please ring for more details or to make an appointment to view.