Chassis 421/100/119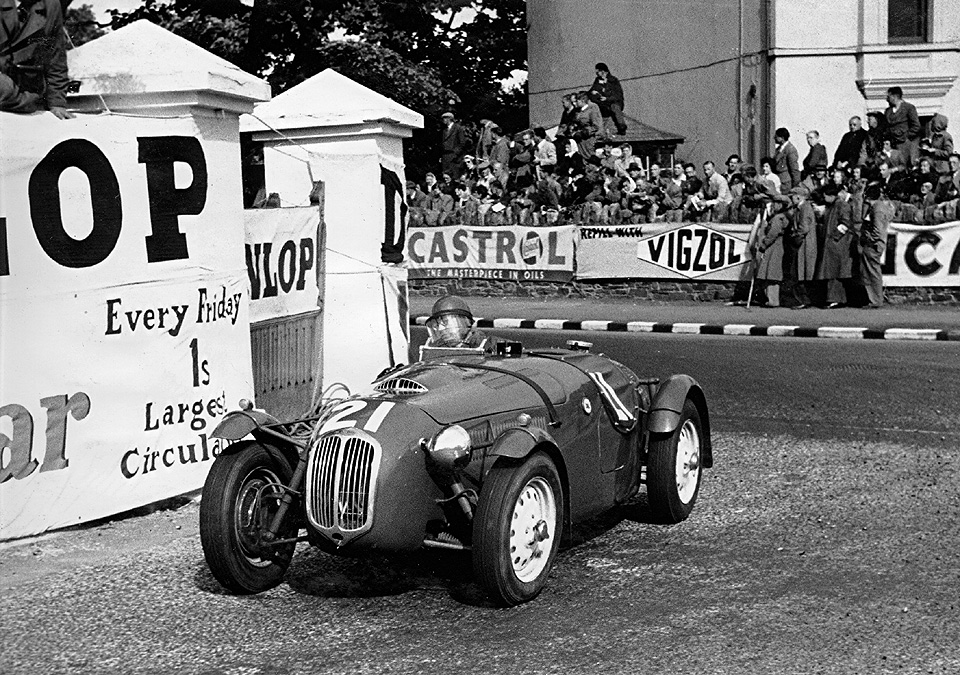 The Frazer Nash Le Mans Replica is widely regarded as the archetypal Post War English Sports car: its lightweight construction, excellent power to weight ratio and its agile handling characteristics making one of the most driver friendly and usable competition sports car of all time. In period drivers of the calibre of Moss, Salvadori, Crook and Gerard all had amazing success time and time again at the wheel of Le Mans Reps. The cars competed in all the great races such as Le Mans, Mille Miglia, Targa Florio (where Cortese won the Class) and of course at Goodwood. They were clearly very effective but also hugely expensive and cost more than a contemporary Bentley. Only 29 were built and today they are owned and raced by some of the sport's most experienced participants. It is rare for these cars to come on the open market and this is a significant example.
This car was ordered by Bob Gerard and was the first car delivered with telescopic shock absorbers. The car was also identifiable by its external wing mounts, Alfin brakes and white painted wheels.
The car was Invoiced on 15th August 1950 and its early notable races were:
26th August 1950 Daily Express, Silverstone DNF
16th September 1950 RAC Tourist Trophy, Dundrod
2 Litre Class 1st
May 1951 International Trophy, Silverstone
Production Car Race (2,000cc) 2nd
14th June 1951 British Empire Trophy, Douglas 2nd
15th September 1951 RAC Tourist Trophy, Dundrod
2 Litre Class 1st
10 May 1952 Daily Express Silverstone
Formula 2 Race DNF
16th August 1952 Goodwood Nine Hours 4th Overall
2 Litre Class 1st
13th June 1953 Le Mans 24 Hours DNF
After 13 hours the crankshaft
damper broke.
5th July 1953 Reims 12 Hour Race 7th O/A
2 Litre Class 3rd
22nd August 1953 Goodwood Nine Hours 6th O/A
2 Litre Class 1st
5th September 1953 RAC Tourist Trophy, Dundrod
2 Litre Class 2nd
10th April 1954 British Empire Trophy, Oulton Park 9th
Gerard sold the car to Maurice Tew in 1955
17th September 1955 RAC Tourist Trophy, Dundrod
2 Litre Class 4th
and its subsequent owners were as follows:
September 1955 Mr. Grant of Edenbridge
June 1957 Bill Wilks
1959 Tommy Clapham
1960 Tony Lanfranchi
1963 Ian Kennedy
1964 Dan Margulies
1965 Richard Skillbeck
1965 To U.S.A. Bob Hammel
1969 Spencer Young
1971 Ned Curtis who kept it 27 years
Mille Miglia 1986
2002 Frank Sytner
Goodwood Revival 2004
Monaco Historic 2008 by Sir Stirling Moss
In the history file there is an article by David Clarke who was Bob Gerard's co-driver in 1953. An extract goes as follows:
"…the 1953 season held lots of promise in long distance sports car events for private entrants, if tackled properly, and I spent the entire season driving with Bob, when we decided to enter his Nash as a joint effort in just four long distance races, Le Mans in June, the Reims 12 Hours in July, the Dundrod TT and the Goodwood 9 Hours in September. By concentrating on four events we thought we would have a chance to score on reliability, sensible driving, and good pit work, and we very often brought the car home in far from race-worthy condition by simply sticking at it and using our considerable experience to the best possible advantage.
The biggest effort came at Le Mans for we considered ourselves extremely lucky to be accepted as an official Works Frazer Nash entry in a field composed of the elite from Europe and the USA. Works entries came from Alfa Romeo, Ferrari, Gordini, Cunningham, Jaguar, Aston Martin, to name the big boys…The preparation of our Frazer Nash was just about as complete and thorough as it could be with the car stripped right down to the chassis and built up with all new parts where necessary, being equipped with the latest Alfin brake drums, an outside exhaust system, a streamlined Perspex windscreen and exceptionally well made aluminium valances. We also devised an auxilliary oil tank, which I believe came from one of Bob's old Rileys, which was mounted high up on the left side of the cockpit with an external filler and having a capacity of approximately two gallons."
The external filler for this oil tank can be clearly seen in period pictures of the car on the passenger side close to the rear edge of the bonnet. This being such an original car it did not comes as a surprise to look under the dash board and find the witness marks in the aluminium where the hole had been, now neatly filled in but as testament to originality.
Clarke's account is fascinating and tells how they drove the car over to the Le Mans circuit, of him getting a puncture during night practice and then changing a wheel on the side of the track, scrutineering, the start, the race itself and then their frustrating retirement after 13 hours of racing when running 2nd in class. Their performance improved as their season progressed with a third at Reims, 1st in the Goodwood Nine Hors and 2nd in the TT and Clarke's wonderful article adds colour and detail to these impressive results.
This highly important car has been has been in the hands of its current owner for over 10 years during which time it has been meticulously maintained and painstakingly restored in the workshops of Simon Hadfield, Ian Nutthall and most recently Blakeney Motorsport. Bills have been filed over this period and amount to a figure in excess of £ 235,000. Accordingly this significant car is not only beautifully and correctly presented but also ready for road, rally or race.
The car is offered for sale fitted with engine no: BS1/125 that was installed by Gerard for the 1952 season.
Today "HBC 1" is the most eligible of historic racing cars and can compete in the Mille Miglia, Monaco, Le Mans, Goodwood, Tour Auto, Woodcote Trophy, Gentleman Drivers, VSCC and any number of other events.