Chassis Number: 14073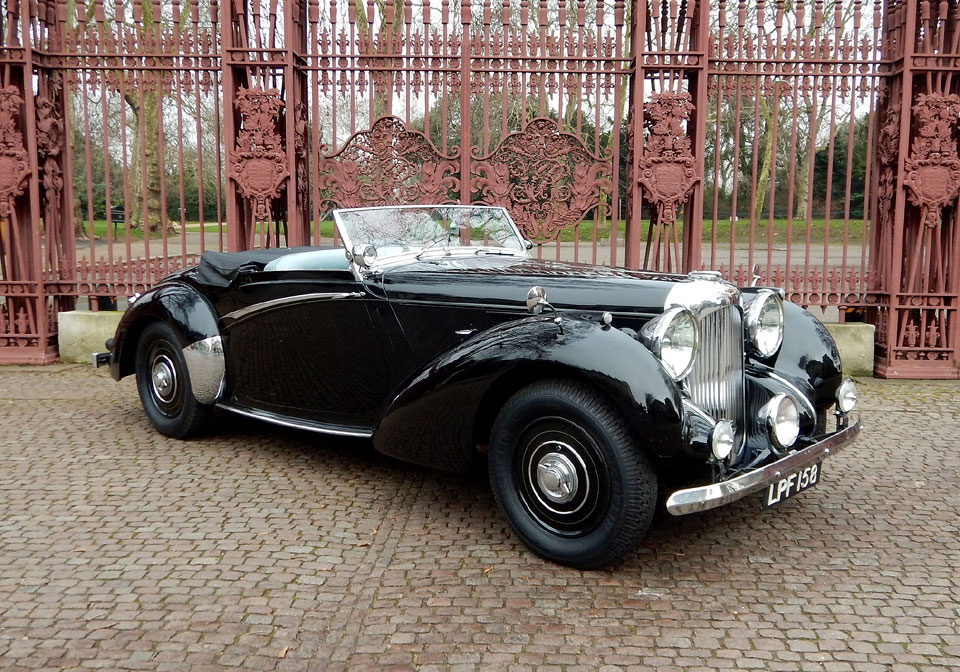 There is a romance to the Lagonda marque that you couldn't make up. This quintessentially British company was actually founded by an American who named it after the Shawnee Indian name for the town he grew up in. Wilbur Gunn had a career as an opera singer and sewing machine manufacturer before turning his hand to motorcycles and cars. His business continued after his death but in the 'Great Depression' of the early Thirties the business was failing. The same month that the company went bust a Lagonda won the enormously important 24 Hour race at Le Mans. At that time success on the race track quickly translated into sales in the showrooms.
A new and refinanced Lagonda company was formed in 1935 with no lesser figure than W.O. Bentley as Technical Director. He had just been released from his contract with Rolls-Royce where he had not been allowed to design anything but had looked on as they designed and built a V12 engine for their Phantom III.
Accordingly it is no surprise that W.O. Bentley wanted to produce a V12 of his own, better and more powerful than the efforts of the mighty Rolls-Royce. The Lagonda V12 was announced at the 1936 London Motorshow and the first models appeared in 1937. These were breathtakingly expensive luxury cars and yet there was still a demand for something even more prestigious and exclusive. For these buyers Lagonda built the V12 "Rapide". Only a dozen were produced, built onto a short chassis and fitted with sporting art deco coachwork penned by celebrated designer Frank Feeley.
When it appeared it caused a sensation. The Rapide was on a par with today's Supercars and priced at around £ 1,600. This was a huge amount at that time when the average house price was £ 200, about £ 1,800,000 in today's money.
Chassis 14073 is one of the twelve Rapides built and widely regarded the most original. In addition this car has a remarkably complete provenance for two reasons, firstly because the owner who acquired the car in 1962 kept it for 57 years and secondly because its file contains the original (not copies) build sheets and service records that run up to 1954.
This car was ordered in 1939 by Captain Harrison Broadley of 'Tickton Grange', East Yorkshire. It was supplied to special order with two tone paint, red over grey with grey leather and a matching hood. A unique feature was the stainless steel dashboard that would have contrasted well with the woodwork that was finished in 'piano black'. The standard wheels were embellished with 'Ace' discs. It is notable that this was the only Rapide that was specified without rear wheel covers (spats) and there is no doubt that this omission adds greatly to the sporty appearance that is unique to this car. The car was first registered AT 1.
Sadly not long after taking delivery Captain Broadley died and his wife returned the Rapide to the works requesting that it should not be sold. During the War years the car was re-registered LPF 158 and used exclusively by Managing Director, Dick Watney.He retained it until the end of hostilities. Around this time it was sold to Lord Selsdon who had competed at the 1939 Le Mans 24 Hour race in a V12 Lagonda and finished 4th. In 1949 he went on to win that prestigious race driving a Ferrari.
In his ownership the factory fitted a Le Mans spec engine with numerous modifications including better cooling, lubrication, a revised firing order and four carburettors. He also chose to have the car painted black.
In May 1949 the car passed to successful businessman, Mr. S. O. Grimmond of Guildford and it is documented he continued to have the car maintained and serviced by the factory.
The next owner acquired the car in 1962. This was Mark Walker who at the time was a student at Oxford University. He has described buying the car for the two hundred pounds whilst adding that at that time this was a considerable amount. With no speed limits he was on occasion able to push the car to speeds in excess of 100 mph along the newly completed Oxford bypass.