Chassis No: 85301
UK Reg: FLM 9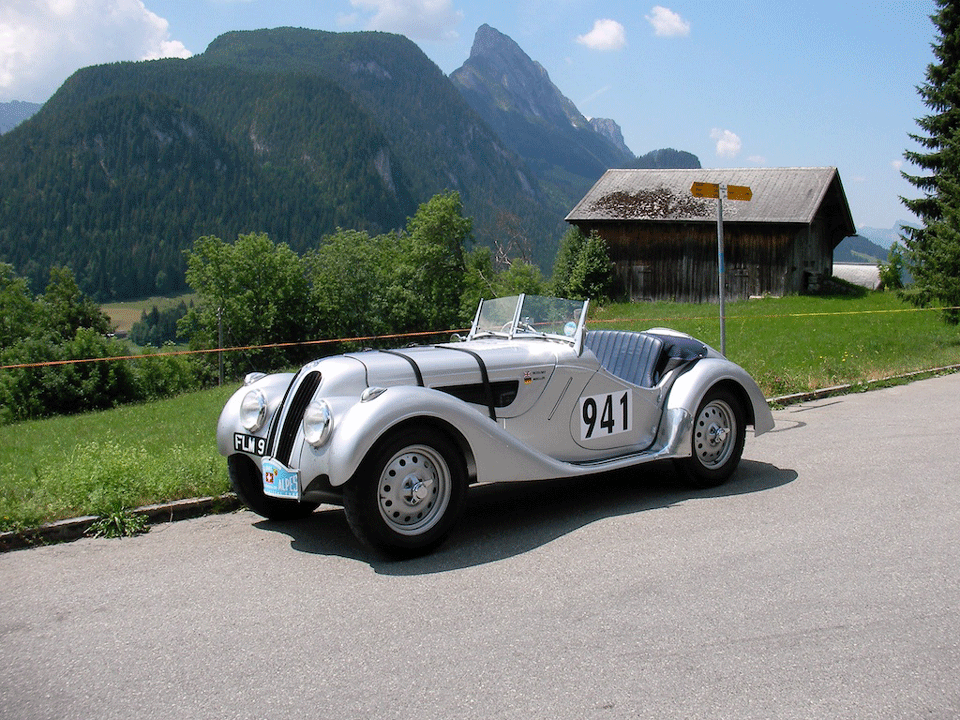 BMW's emergence as a manufacturer of fine sporting motor cars can be traced back to the annual Eifelrennen event held at the Nürburgring on 14th June 1936, when Ernst Henne beat a field that included 1½-litre monoposto racing cars driving the prototype of what would become one of the most iconic sports cars of all time – the legendary '328'. The fact that this overwhelming victory had been achieved only eight years after BMW's establishment as an automobile manufacturer is all the more remarkable.
Lacking the resources of their larger and longer established rivals, BMW had adopted a 'mix and match' approach to model development. Thus the 328 employed the tubular chassis, transverse-leaf independent front suspension and live rear axle of the 319; the cylinder block and hydraulic brakes of the 326; and a body incorporating stylistic elements of the 319/1 Sport and 329. With the 328, BMW's Chief Engineer Fritz Fiedler turned accepted chassis design on its head, coming up with a frame that combined lightness and stiffness in equal measure – virtues that permitted the use of relatively soft springing with all its attendant advantages. In short: the 328 was the first truly modern sports car.
The 328's six-cylinder engine featured an ingenious new cylinder head, designed by Rudolf Schleicher, which incorporated hemispherical combustion chambers and inclined valves without recourse to overhead, or twin camshafts. Instead, the Type 326, 1,971cc engine's single, block-mounted camshaft and pushrod valve actuation were retained, thus avoiding an expensive redesign. Two rocker shafts were employed, one situated above each bank of valves, giving the engine an external appearance almost indistinguishable from that of a twin-overhead-cam design. Down-draught inlet ports contributed to the motor's efficient breathing, and its tune-ability made it a popular choice for British racing car constructors, most notably Cooper, during the 1950s. The 328 engine produced 80bhp, an exemplary output for a normally aspirated 2.0-litre unit at that time, with more available in race trim. On the track the 328 reigned supreme, winning its class at the Mille Miglia, Le Mans, Spa 24 Hours and Britain's Tourist Trophy. In 1940 an example fitted with special aerodynamic bodywork won the Mille Miglia outright.
This was the first truly modern sportscar and the Aldington Brothers whose Frazer Nash company already sold BMW's in Britain were quick to see the potential of the new model for their sporting clientele. In fact the third prototype was a right hand drive model that H.J. Aldington and A.F.P. Fane drove in the 1936 French Grand Prix and the same car covered 102 miles in an hour at Brooklands in the hands of journalist racer, Sammy Davis The BMW factory built a total of 464 cars of which 45 were built to special order with right hand drive and marketed as the Frazer Nash BMW. Chassis number '85301' played a significant role as it was the actual car exhibited by Frazer Nash at the 1939 London Motor Show held at Earls Court.
Its first owner was Geoffrey Crossley, an enthusiast amateur racer. He bought the car in 1939 and sold it in 1947.
The second owner was Gilbert "Gillie" Tyrer, a well-known privateer racer and car dealer based in Liverpool. He had been campaigning another 328 since 1945 and by 1947 it was beginning to show its age. He bought FLM 9 because although it was second hand it was in great condition and had a low mileage. Between 1947 and 1949 Tyrer competed extensively with the car and went on to win many sprints and hill-climbs. The results are documented and some of the trophies remain with the car.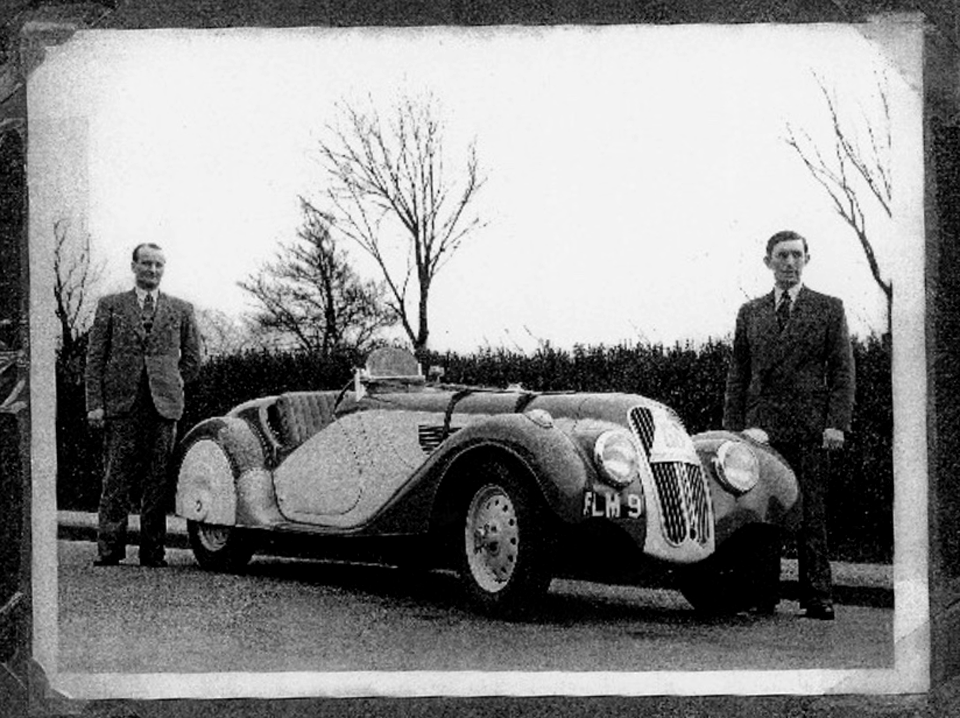 Subsequent owners were Alex McMillen in 1949, and then Len Melly in 1951. At some point in the 1950's the car went to the USA and passed through the hands of Spencer Young and then to Ned Curtis in the 1970's. Ned died in 1988 and his son had the car restored with the intention of showing it at the Pebble Beach Concours. However, when Ned's widow became ill the car was sold and came back to the UK.
Cheshire based dealer Brian Classic imported the car and offered it for sale in 2005. It was bought by Paul Dezelsky and he kept the car until 2017. In his care the car did a number of rallies and was maintained to a very high standard. Bills in the history file show restoration work carried out by the highly regarded 328 specialists, Mitchell Motors of Salisbury. Bills on file show parts being supplied by Feierabend and work to the coachwork and mechanical attention to the brakes, suspension and steering. In addition the gearbox was rebuilt in 2014 by Spencer lane Jones.
The 328 was the most advanced sports car of its day and remained competitive for years after the war, a state of affairs that only served to further enhance its reputation, which was out of all proportion to the limited number produced. Between 1936 and 1939 only 426 BMW 328s were made, of which fewer than 200 are believed to exist today.
The BMW 328 is a very capable road car easily keeping up with modern traffic and also eligible for all the most important historic events and rallies including the Mille Miglia, Le Mans Classic, Flying Scotsman, Nürburgring Oldtimer GP and so on.
"FLM 9" was the 1939 London Motorshow car, has a period competition history, has retained its original registration number and in addition has its original matching number engine. Its BMW body number is evident in a number of places further enhancing its integrity. It is offered for sale in very good cosmetic and mechanical condition complete with nearly new weather equipment and a spare set of minimalist front seats to suit a taller driver. In addition there is a good history file and a number of Gillie Tyrer's trophies.