Chassis No: 12267/R
Registered: ELB 396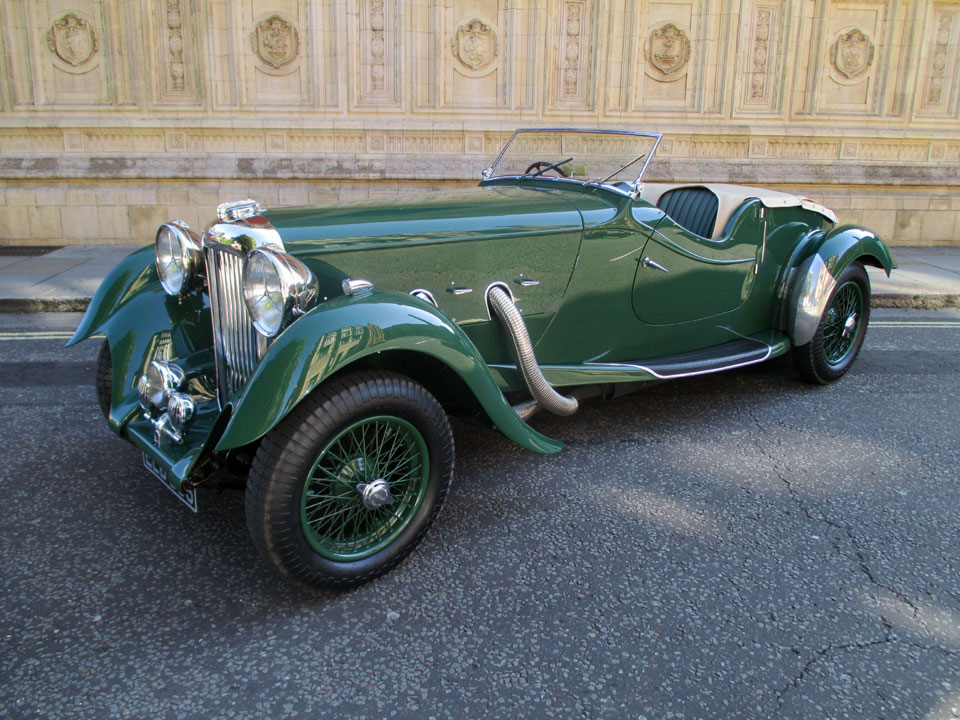 In 1933 Lagonda announced a new 4½ litre model fitted with an engine built by the Meadows company. This was a robust unit, well tried and used by Invicta in their range of cars and Vickers in tanks. The new Lagonda Tourers were high quality cars and in direct competition with the new Bentleys being built by Rolls-Royce. The Lagonda was priced at £795 for the complete car. The Bentley chassis alone cost £ 1,100 and even a simple Vanden Plas Tourer body would be another £240 on top! This was a lot of money when the average house price was around £200. With its stylish appearance, the Lagonda M45 Tourer was the fashionable car to own in 1934 and even Sir Malcolm Campbell had one, pale blue naturally.
However these were difficult times for the company and in the wake of the 'Wall Street Crash' and the depression that came after, Lagonda followed the likes of Bentley and Invicta into receivership in June 1935. The irony was that very same month a 4½ litre Lagonda won the Le Mans 24 hour race. In those days success in motor racing produced sales in the showrooms and with better timing this could have put the business back on its feet.
In the event, the remains of company was sold to a consortium led by Alan Good, with Dick Watney as Managing Director and W.O. Bentley as Technical Director. "LG Motors (Staines) Ltd" was registered in August 1935 but effectively the Lagonda brand continued.
Refinanced and restructured the new company wanted to capitalise on the significant victory at Le Mans. An eye-catching sports model sharing the same name as the winning car would re-establish the marque as a name to be reckoned with. Frank Feeley (who later penned the DB3S for Aston Martin) designed a flamboyant four-seat open tourer with highly stylised coachwork that looked bang up to date but actually utilised most of the existing chassis components. The engine was the big six cylinder, 4½ Litre Meadows unit but re-engineered by Lagonda's Technical Director, no less a man than W.O. Bentley His redesign ensured performance and reliability improvements. Stronger 'four bolt' main bearings, a strengthened crankcase, a new ignition system and a fresh induction system were all part of the package.
The power was transmitted through a four-speed gearbox with synchromesh on second, third and top. The result surely exceeded all expectations and a Rapide must have caused a sensation wherever one appeared, drawing attention to its potency with its twin exhausts sprouting from the bonnet sides in flexible chrome covers. The Lagonda LG45 Rapide was narrow, low and accelerated fast with a top speed that easily exceeded 100mph. Only 24 were produced and they caused a sensation when they appeared, which is still true today.
This is a beautifully restored example with matching numbers.