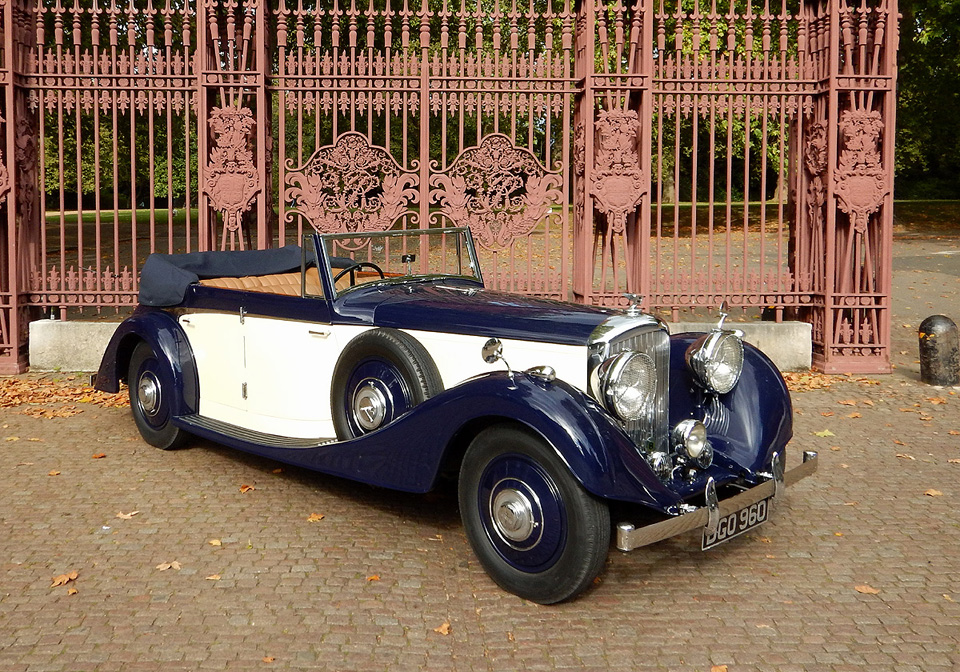 The 'Derby Bentley' is widely regarded as the most sophisticated car that money could buy in the 1930's. The chassis was remarkable in that it offered the driver effortless sports car performance in almost absolute silence. This was achieved with a six cylinder engine with a synchromesh four-speed gearbox, with servo assisted braking and with a one-shot central lubrication system. If this was not enough the car also had the benefit of adjustable rear suspension and a chassis damper that doubled as a front bumper. The engine had a cross flow cylinder head with SU carburettors, a crankshaft damper and roller cam followers. A favourite feature was the thermostatically operated radiator shutters that open and close to regulate the engine temperature. Originally only available with a 3½ Litre engine the more powerful 4¼ Litre option became available in 1936. In a typically understated way the company had created one of greatest automobiles of the day, the "Silent Sports Car" and it is not surprising that so many notable figures, celebrities and racing drivers of the day owned them.
This Car:
Registration No: DGO 960
Chassis No: B 7 HM
Vanden Plas Body No: 3526 (Black)
Body Design: 1341 at a cost of £ 450 Completed January 1937
Chassis B 7 HM is an original Vanden Plas "All Weather Tourer" and is one of only 19 that were built with this design coachwork. The car is still registered on its original number and has benefitted from a significant restoration in the late 1990's. It has been fitted with a modern overdrive unit to allow touring speeds at low engine revs. It is complete with a substantial history file and a most impressive and complete tool kit.
It is a beautifully restored example and a full description will be posted shortly.