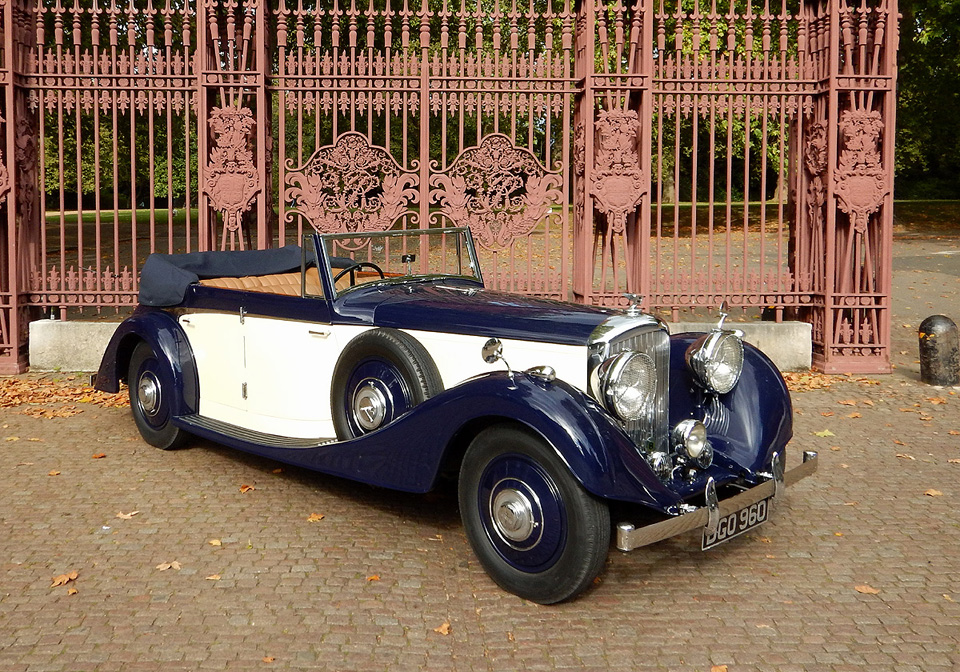 The 'Derby Bentley' is widely regarded as the most sophisticated car that money could buy in the 1930's. The chassis was remarkable in that it offered the driver effortless sports car performance in almost absolute silence. This was achieved with a six cylinder engine with a synchromesh four-speed gearbox, with servo assisted braking and with a one-shot central lubrication system. If this was not enough the car also had the benefit of adjustable rear suspension and a chassis damper that doubled as a front bumper. The engine had a cross flow cylinder head with SU carburettors, a crankshaft damper and roller cam followers. A favourite feature was the thermostatically operated radiator shutters that open and close to regulate the engine temperature. Originally only available with a 3½ Litre engine the more powerful 4¼ Litre option became available in 1936. In a typically understated way Rolls-Royce had created one of greatest automobiles of the day, the "Silent Sports Car" and it is not surprising that so many notable figures, celebrities and racing drivers of the day owned them.
This Car
Registration No: DGO 960
Chassis No: B 7 HM
Engine No: Z6 BK
Vanden Plas Body No: 3526 (Black) Ordered by Bentley for stock
Body Design: 1341 at a cost of £ 450-
Chassis B 7 HM is an original Vanden Plas "All Weather Tourer" and is one of only 19 that were built with this design coachwork. The car is still registered on its original number. The car has benefitted from a significant restoration and is fitted with a modern overdrive unit. It is complete with a significant array of tools and a substantial history file.
The quality of the 'All Weather' Tourer is summed up concisely by Frazer and Knapek in their excellent book, 'Bentley Beauty',
"Vanden Plas must be considered kings of the open body on the Derby Bentley chassis, and one of these cars, particularly of the scarcer designs, would not be out of place in a world class collection.
In Detail
The first owner of B 7 HM was a Mr. D.S.J. MacKinnon of Melbourne, Australia and he paid the not inconsiderable sum of £ 1,331 for the car and it was delivered in black with grey leather and a khaki roof. We know from the records that the car was originally ordered by Bentley for stock and was registered DGO 960 in the expectation that it would be sold into the home market. MacKinnon kept the car in Australia until 1949 when it returned to the UK and was re-registered KXK 203.
The second owner was Mr. Alan Mackay of Glenapp Castle, Ayrshire. He kept the car for three years before selling it on. The car was enjoyed by three further owners until 1965 when it was bought by an American architect who was living and working in London. The history files contains a wealth of letters, bills and car show awards from his time with the car. In 1968 the car featured in a David Niven film, "Prudence and the Pill". Shortly afterwards the car was sold to another architect, George Russel of Los Angeles, California. There is documentation showing Jones selling the car to the dealers, Frank Dale and Stepsons. However, this may have been a ruse to establish a low value to enable a fellow U.S. architect to import the car at an advantageous level.
Russel kept the car for ten years before selling on to John Zaninovich also of California. He owned the car for fourteen years until 1992 when he sold it to Mr. Douglas McCorkingdale of Arlington, Virginia. In his care during the late nineties, B7HM benefitted from a complete restoration. Quoting from the history file, "Over U.S. $ 300,000 was spent on stripping the body to bare metal, removing all body panels so as to be able to replace all of the structural wood; dismantling the body, new paint, repairing and re-plating all bright-work; restoring and re-finishing all wood trim; re-glazing all windows; dis-assembly and detailing the chassis; re-wiring the chassis, restoration of all gauge restoration of road wheels, new leather, carpet and canvas, along with attention to numerous lesser issues. The clock even works".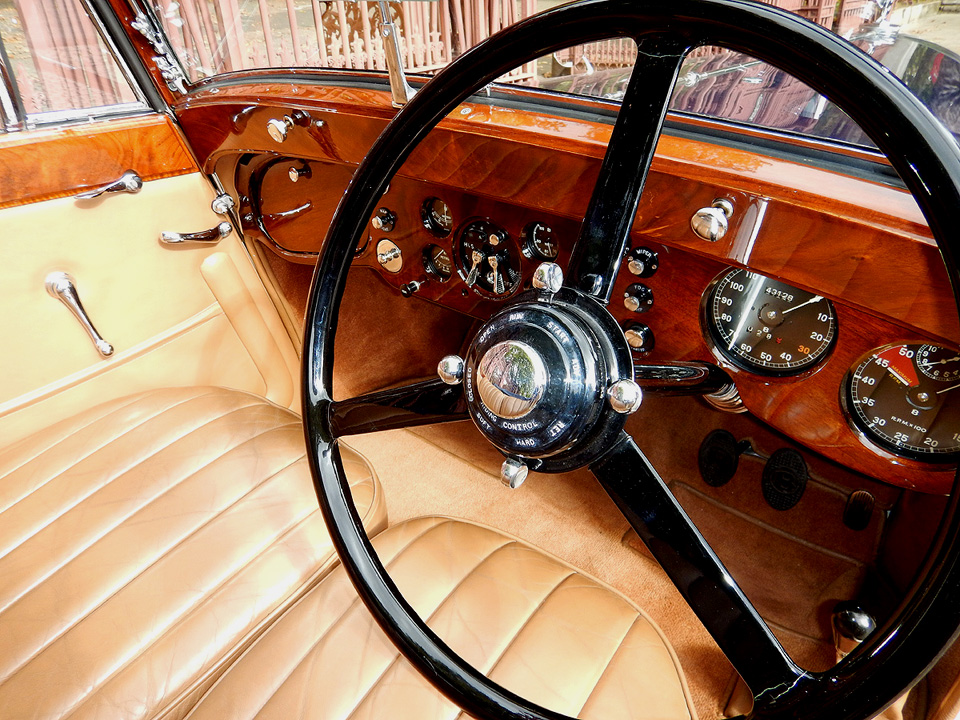 The next owner was Richard Buckingham. He acquired the car in 1998 and re-imported it into the UK in 2000. He then had the engine rebuilt by Hampshire based, 'A&S Engineering' and a Tim Payne Overdrive fitted at the same time. Since these works were carried out the car has covered less than 6,000 miles.
Buckingham kept the car until July 2011 when it was offered for sale at a Bonhams auction at the Goodwood Festival of Speed.
B 7 HM was then bought by Stan West, a car enthusiast of some note based in Banbury, Oxfordshire. It was re-registered onto its original number, DGO 960 and maintained for him by P&A wood and Priory Vintage Car Company. West had a number of high quality classic cars which he kept until his death in 2021.
Ownership history
Registered DGO 960 in 1936
Bentley exported to Australia 1937
1 1937 -1949 Mr. D J S MacKinnon of Australia
Bentley returns to UK and registered KXK 203
2 1949 – 1952 Mr. Alan Mackay of Ayrshire
3 1952 – 1959 Mr. Raddington-Meech, London SW4
4 1959 – 1962 Mr. Jack Compton, London SE17
5 1962 – 1965 Mr. Albert Montague of Yorkshire
6 1965 – 1968 Mr. Herbert Jones London
Bentley exported to USA 1968
7 1968 – 1978 Mr. George Russel, Los Angeles, USA
8 1978 – 1992 Mr. John Zaninovich USA
9 1992 – 1998 Mr. Douglas McCorkingdale, Vi USA
10 1998 – 2011 Mr. Richard Buckingham, N.Y USA
Bentley returns to UK (2000) and registered DGO 960
11 2011 – 2021 Mr. Stan West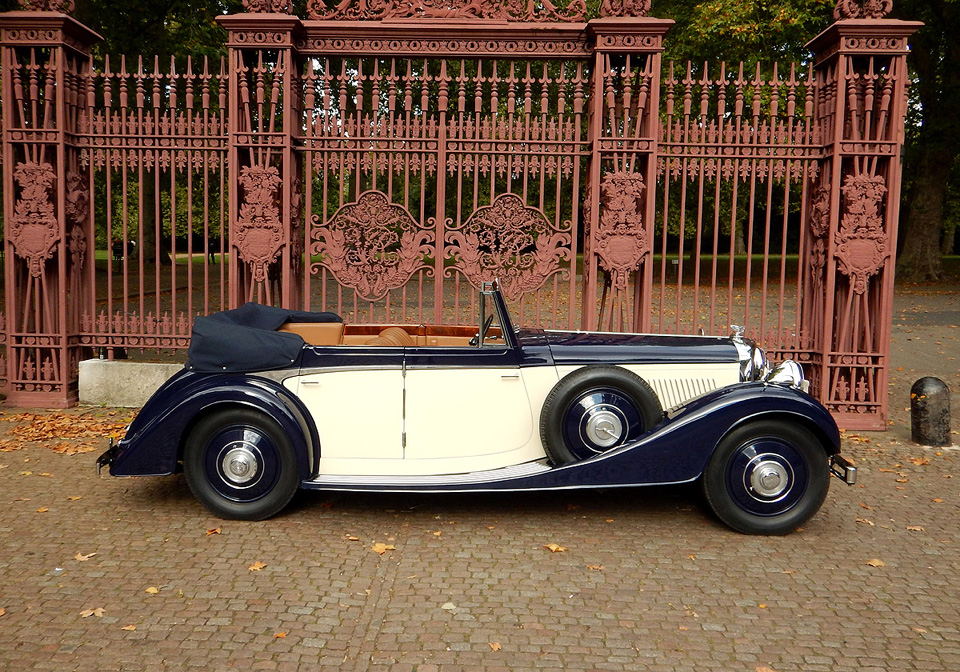 Summary
An original Derby Bentley with a sporting convertible body by the highly regarded coachbuilder, Vanden Plas.
Rare and attractive design that is both versatile and practical.
Offered in outstanding condition, having benefitted from a high quality restoration completed in 2,000 and having covered less than 6,000 miles since. Restoration cost has been estimated in excess of £ 180,000.
Modern (Tim Payne) overdrive fitted
A wealth of paper history accompanies the car with photos, letters, invoices and documents including a 'buff log book' that evidences the second owner in 1949.
Interesting international ownership with custodians in three Continents
Moments of interest include 'Best Derby Bentley' at 1967 BDC Concours and the subsequent honour of an appearance in the Ballroom of the Dorchester Hotel, a part in the 1968 David Niven feature film "Prudence and the Pill", and a Class Win at Pebble Beach in 1973.
Maintained for last owner by P&A Wood and Priory Vintage