Registration CSU 714
Chassis S 124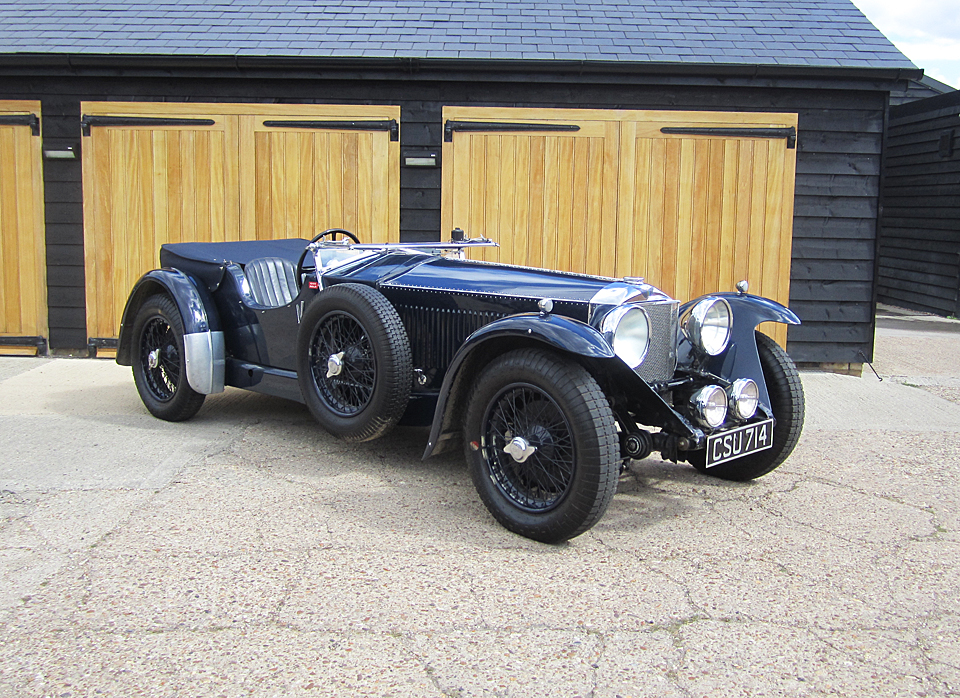 Noel Macklin was born in 1886, educated at Eton, then served as a Captain in the Royal Horse Artillery in the Great War and was wounded and invalided out in 1915. He set up the Invicta company at his country estate in Cobham Surrey in 1925 with financial backing from the Oliver Lyle of Tate and Lyle. He produced a range of cars that were successful and ultimately launched the 4½ Litre S Type at the London Motor Show in 1930.
His goal was to make a car with the quality and reliability of a Rolls-Royce and performance that would better a Bentley. Accordingly the car was made of the finest materials, a nickel steel chassis with a large cast aluminium bulkhead and bronze fittings. Macklin was so confident that he offered a Rolls-Royce style three year guarantee. Technically the cars benefited from an immensely strong under-slung chassis and the reliable 4½ Litre Meadows engine. In Macklin's own words "the essential characteristic of the Invicta was luxurious speed".
The Invicta reputation as a sporting marque was greatly enhanced by the exploits of Miss Violette Cordery, Macklin's sister in law and a celebrated woman racing driver and adventurer. She successfully undertook and number of record breaking feats including a number of world record breaking endurance drives on race tracks; 1926 at Montlhery 5,000 miles at an average speed of 70.70 mph and 1928 at Brooklands 30,000 miles at 61.57mph which took 21 days to complete. Then in 1928 a round the world drive that saw her and her companions, a nurse, a mechanic and an RAC observer cover 10,266 miles in five months.
In 1931 Donald Healey won the prestigious Monte Carlo Rally in an S Type and managed a second the following year. In 1932 the lap record for Brooklands and the fastest times at the Shelsley Walsh Hill Climb and the Stelvio Pass Hill Climb were all held by Invicta as well as numerous victories in International Alpine Trials.
The S Type Invicta was as famous for its performance as it was for its excellence and ultimately it was Macklin's refusal to cut costs, build quality and workmanship, even in the teeth of the Great Depression, that led to the marque's demise.
Only 77 Invicta S Type chassis were produced and 56 are thought to survive. The standard coachwork offered in the period promotional material was the Carbodies Tourer. Strong and lightweight this very low, angular and rakishly attractive style has naturally become the most desirable for collectors today. The generous mudguards with their deep valances give the car an impregnable look whilst the long bonnet with the chrome exhaust protruding leave no doubt that this is a car with sporting potential.
The car offered here is Chassis S 124 from 1932 that was actually only first registered on January 1st and delivered to James Robert Stott of 202 Ewell Road, Surrey. He kept the car until 24th March 1937 when he sold it to Mr. David Herbert Milne of 55 Palace Gardens Terrace in London's fashionable W8.
It is interesting to note that less than a year later another Invicta S Type was bought by a Mr. Keith Gormley who lived 19 Ossington Street which is opposite Palace Gardens Terrace. One must assume these two were or became friends. Gormley went on to become Competition Secretary for the Invicta Car Club. In any event Milne kept S 124 throughout the War and only sold it in 1951.
This early ownership information of S 124 was recorded by the Hertford County Council in 1958 when writing to the then owner, a Mr. William G. Norways of 28 The Fairway, New Barnet, Hertfordshire.
In 1963 the car was sold to a Dr. Evans and he sold the car to Leonard Potter in 1966. Potter was a dealer operating a business called Lantern Cars Ltd. Their address was Ham Hill, Newbury Berkshire. He sold a large number of cars to the USA and this one went off to Norman M Robson of Okeechobee Road, West Palm Beach in Florida. Robson was something of an Invicta enthusiast an already owned S 161 , a Drophead Coupe and kept this car for twelve years which is thoroughly documented in the cars history file.
He eventually sold the car to Harrah's Club on 30th January 1978 for US $ 40,000 where it was to remain for seven years until 28th September 1985 when well known San Francisco based collector, Tom Perkins bought it.
The British car dealer Charles Howard re-imported the car in 1988 and before the end of the year it was jointly owned by Victor Gauntlett and Peter Livanos. Gauntlett sold his share in the car to Livanos in 1990 and it was then registered in his company's name of Hugo Investments Ltd. In August 1991 it was sold to another American, Mr. Charles Mallory but it is believed not to have left the country.
S 124 was sold in 15th December 1992 into the long term care of an Austrian called Franz Schiefthaler who was to keep it for 19 years when it was bought by the current owner on the 8th February 2011.