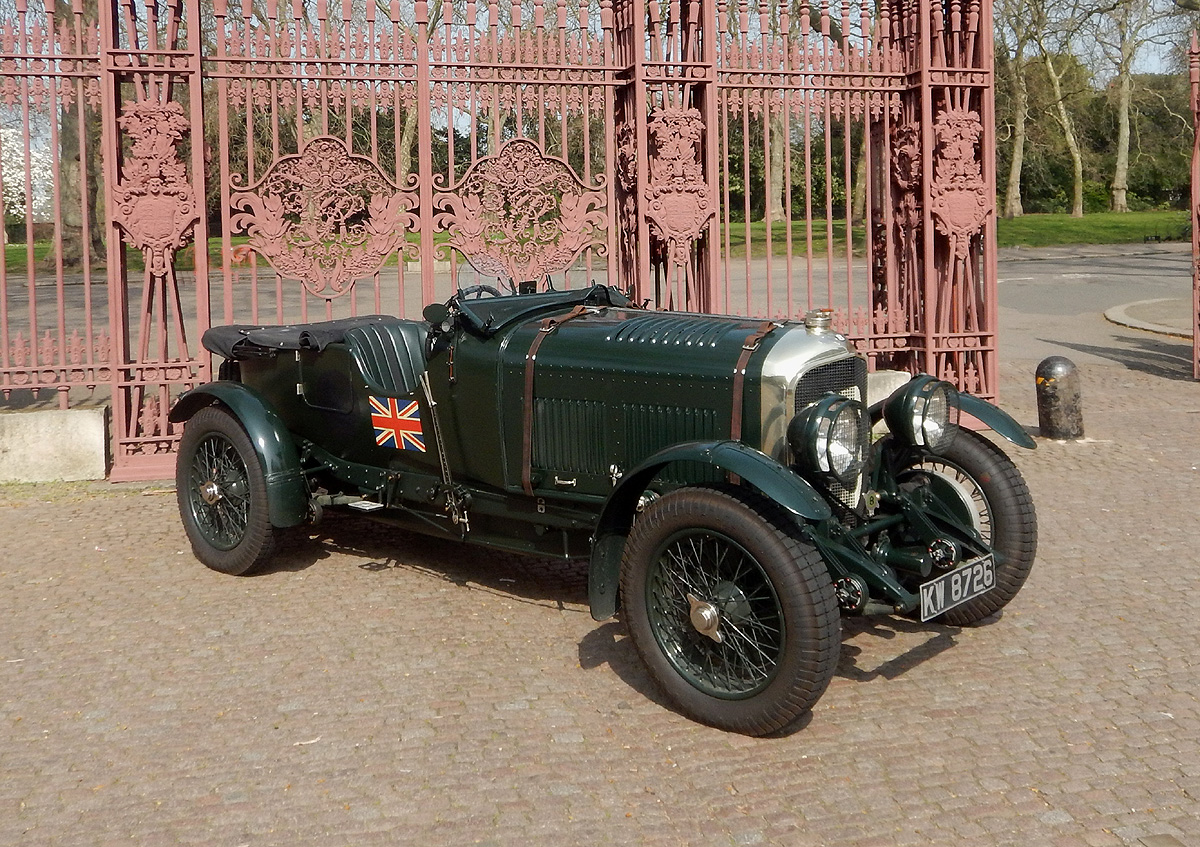 A bigger engine in a lighter chassis is every sports-car drivers dream and ever since W.O. enlarged his already potent 3 litre engine to 4½ litres owners, racers and bounders have been installing the gutsy bigger unit into the shorter chassis to create the eponymous '3-4½'. Marque expert Clare Hay summed it up succinctly, "the 4½ 'shorties' were the nicest handling Vintage Bentleys built, combining compact appearance with a high power to weight ratio"
The coming together of this 3-4½ goes back to 1959 when life-long Bentley enthusiast Syd Laycock chanced upon a near derelict 4½ that had seen service in the War as a fire engine. To fulfil this roll the chassis had been horribly shortened to facilitate the grafting on of fire-fighting equipment and such like. However, this was chassis KL 3600, still with its original engine, KL 3597 and registered KW 8726 and offered for sale at the princely sum of £ 35.00. Of course it had to be bought and Syd naturally towed it home with his other 4½. The details of the acquisition are recounted by Syd himself in the April 1961 Bentley Drivers Club Review where his story is competing for space with news from Africa; "Have you ever seen a Bentley driven by a nun?' and in case you have not, a picture of two nuns in a Bentley is displayed for all to see.
The Bentley Drivers Club Review also reveals that shortly after this an early 3 Litre Speed Model, number 43 was broken up and Syd acquired the chassis thereof. This event is marked in Syd's obituary as a moment that would "see Syd embark on Shorty's thirty year rebuild.
The car eventually changed hands in 2004 and by now had been registered on the KW 8726 number from the fire pump 4½ litre while listing the chassis number as 43 from the early 3 litre, such was the way of things. It was bought by BDC member, David Haywood. David remembers the car well describing it as being painted a peculiar dark red colour that led it to be known as the 'Purple Helmet'. He kept the car until 2006 when it was bought by the current owner.
It was eventually decided to create a high specification Birkin style Le Mans Rep and the well regarded specialist Clive Oliver in South Stoke was commissioned to undertake the project. This took nearly three years to complete but the finished car is testament to his years of experience and engineering skills. Most noticeably every important nut and bolt is either split pinned or wired, and on a vintage Bentley that is most of them.
The specification includes:
Double Hartford Shock absorbers front and rear
Self wrapping front brakes
Finned brake drums front and rear
Whipcord bound springs
Lucas P 100 Headlamps with stone-guards
Cross bracing to lamps and wings
Twin Bosch Horns
Nickel radiator with stone-guard
Quick release radiator filler cap
Cycle wings with Le Mans gusseting
Long bonnet with louvres and openings
Fabric body
Chassis stiffening strut gear
Chassis stiffening side plates
Mesh wind-screen
Scuttle oil filler cap
Body mounted side lights
Engine under tray
High power starter motor
Thermostat
Phoenix rods and rockers
Bronze bodied Sloper SU carbs
Oil filter
Larger bore exhaust manifold
Downpipe wrapped and wired
Brooklands style silencer
Alternator charging system
Overdrive
Rebuilt rear axle with 4 star diff and 8 Litre half-shafts
Engine turned Le Mans style dashboard
'Soup Plate' Rev counter
Bosch horn switch
Vintage French 'lap counter'
Organ pedal accelerator
Le Mans spec two stick hood frame
'Break the bank' 50 gallon fuel tank
Exhaust fish tail
It is fair to say it will not suit a straight laced matching number zealot but the more liberal minded driver will be rewarded by an audacious looking car with the short chassis, a long bonnet, sporty performance and competition potential. The car has been known in the BDC for over 60 years and its history is documented in Clare Hays, "Bentley, The Vintage Years"
Offered in super condition the car has covered some 5,000 miles since completion with absolute reliability and is now ready for further adventures. It is attractively priced so don't just sit there spectating, become part of the action.