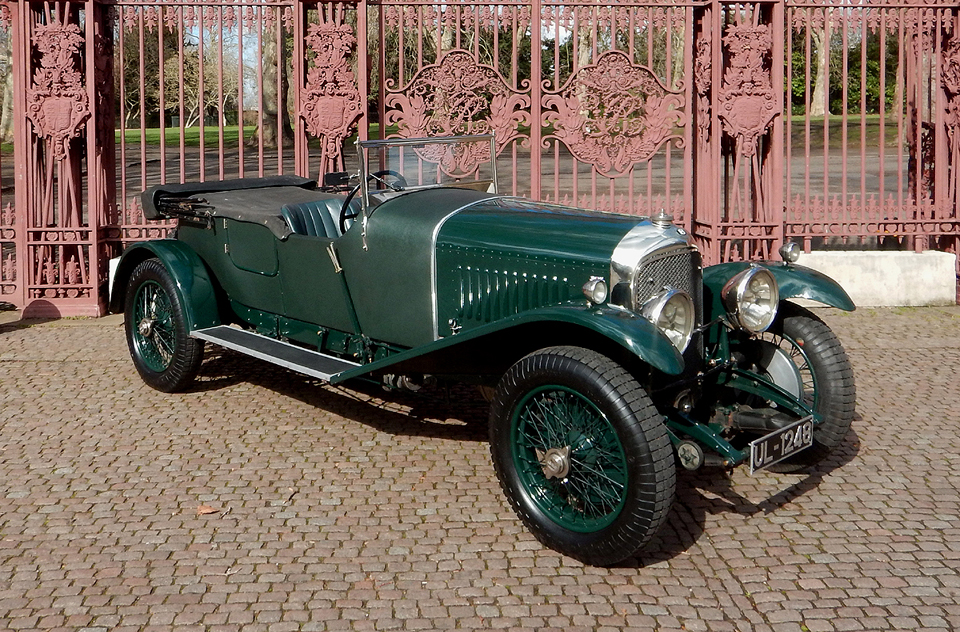 If there is one car that embodies the spirit of British motoring achievement from the 'Roaring Twenties' it has to be the Bentley 4½ Litre. Establishing its reputation at the arduous Le Mans 24 hour endurance race, it has become a motoring icon and recognised the world over. A good 4½ is a great all-rounder and will serve faithfully as Tourer, Sportscar, Racing car, Rally car and will also always draw a crowd in your local pub car park. 658 were built on the 10 foot and 10 inch chassis between 1927 and 1931. With four valves per cylinder and an overhead cam shaft it was one of the fastest and finest cars on the road.
At that time the price of a new car was about £ 1,400 which is remarkable when you consider that it was about 7 times the average house price of £ 200. (Today its around £ 250,000!!)
UL 1248 was originally delivered in January 1929 to Dr. Thomas Cotton who lived at Bryanston Court in Mayfair, a short walk from the Jack Barclay showrooms where he bought it. It was supplied with a high quality H.J. Mulliner Saloon body. The service record shows that the car remained in London until the late thirties and was being maintained by C T Hayes of Paddington. By 1937 the car appears in the hands of H.M. Bentley, brother of W.O. and dealer in high quality used cars.
There is an old style 'buff log book' in the history file that shows it had passed into the ownership of Maurice Freedman of 59 Amersham Hill, High Wycombe in 1947. He sold it in 1950 to Bessie Hales of Henley on Thames. The next change of ownership was in 1960 to Robert Hales of nearby Bledlow Ridge. He must surely have been some relation. The next owner also lived in Bledlow Ridge, a Mr. Richard Smith but the log book is unstamped so the date of this transfer is as yet unclear.
At some point the Mulliner Saloon coachwork had fallen into dis-repair and there is a photo showing UL 1248 fitted with an open sports body utilising the original Mulliner wings. At a later date this was replaced by an open sports traditionally constructed Vanden Plas style Tourer body.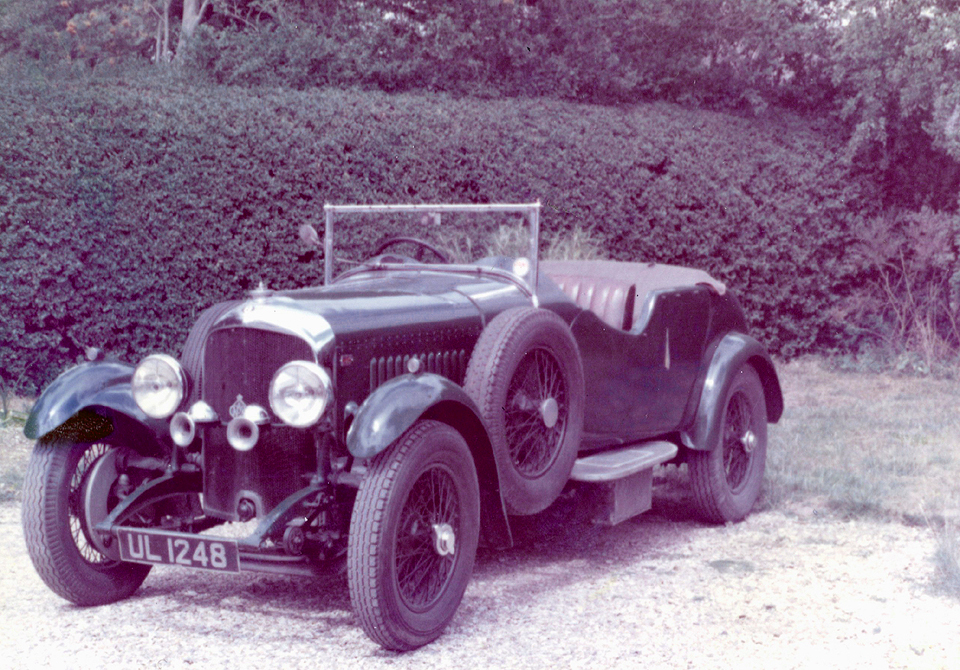 By the mid 1990's the UL 1248 was in the hands of VSCC member, David Dunne of Dublin and he campaigned the car on a number of events including the Measham Night Rally. The car remained in Ireland but by 1999 had passed into the care of irrepressible enthusiast, Shane Houlihan who used the car for the 'Round Ireland" rally.
The current owner, a keen vintage rally competitor and well-known BDC member, bought the car in 2003 and in his twenty years of ownership has maintained the car to a high standard. In 2016 Ewen Getley's highly regarded "Kingsbury Racing" workshops overhauled the brakes, fitted new wheels and tyres and carried out a complete service. In 2017 they were commissioned to do a complete engine rebuild. The original crankshaft was crack tested, balanced and polished. A new set of con rods were fitted with new white metal to the big ends and main bearings. New pistons, valves, springs, rocker shafts, cross shafts and bevel gears were also fitted along with a new water pump. In fact everything to create a fast reliable engine. In 2022 further works were undertaken including a magneto and carburettor overhaul and a new set of Blockley tyres. The car has proved to be very reliable having completed 7 Flying Scotsman Rallies and when the decision was made to sell the car it was driven from its home in Ireland to London. On test drive the car performs as it should with good oil pressure and is extremely nice to drive. The steering is light and precise, the clutch is smooth and progressive, the brakes work well and the gearbox easy to operate. The engine starts readily and runs without noise or smoke.
UL 1248 is a really decent example of the marque. With lots of luggage space it is a perfect car for endurance rally events and has a "Retrotrip" device fitted as well as a phone charging socket. It presents very well, sitting on the correct 21 inch wheels and with an attractive Tourer body showing genuine light patination.
Importantly, the mechanical integrity of the car is very good and all of the numbered parts are present and correct including front chassis knuckle, chassis cross member, steering box, engine, front axle, rear axle, master switch plate, and the original bonnet sides. Twin bronze Sloper carburettors are fitted and these are consecutively numbered and the numbers matched onto the inlet manifold.
A significant history file accompanies the car that includes old registration papers, buff log book, correspondence, bills and photographs. There is also a copy of the original service record from Bentley Motors that cover its early years.